Borno, Gombe To Partner With Rwanda To Strengthen Partnership In Health System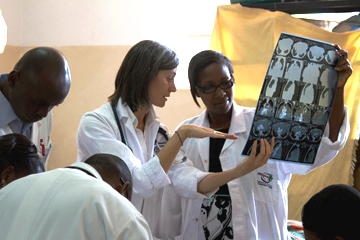 Borno and Gombe State Government through its Primary Health Care Development Agencies are to partner with Rwandan Ministry of Health to have a universal health coverage in all its Secondary and Primary Health Care facilities.
This was disclosed yesterday by Rwandan Minister of Health, Dr. Daine Gashunba when a delegations of Health Experts and members of Additional Financing – Nigeria Health Investment Project (AF-NSHIP) and Project Implementation Unit (PIU) from the two North East States of Borno and Gombe paid a courtesy call on the Minister in her office in Kigali.
Both states, especially Borno which is the epicentre of Boko Haram crisis had suffered much disintegration and disruption of its health systems, before the Federal Government of Nigeria, precisely in June last year scaled- up the AF-NSHIP and Performance Based Financing (PBF), a World Bank Assisted Project, currently being implemented in some contracted public and private health facilities, aimed at providing quality and quantity of healthcare services to the people who were mostly displaced as a result of the insurgency.
The Minister who was represented by the Director General, Planning, Health Financing and Information System in Kigali, Dr. Perfect Uwaliraye, welcomed the delegations, stressing that, Rwanda in recent past, has had a very devastating situation (Genocide), but was able to come out stronger and repositioned itself not only in the health sector, but almost all sectors of the economy.
He noted that, if there is a political will and determination of people in the communities ravaged by insecurity in the north eastern Nigeria, particularly Borno, where everybody should shun corruption, ethnicity, religious affiliations, and key into good policies and programmes of government without selfish interest, "there is definitely going to be a light at the end of the tunnel".
The Minister said, although, this was not the first time a delegations from Nigerian state were coming to the Ministry to seek and explore possible ways of strengthening health system through PBF, her ministry is fully determined to ensure possible areas of collaboration with Borno and Gombe states and Nigeria as a whole to ensure systematic and universal health care service delivery to the people.
He however enjoined members of the delegations to convince their respective government buy into PBF for sustainability, as according to him, the AF-NSHIP/PBF, which is a World Bank assisted project will only last for four to five years, adding that, without sustainability, all effort put in place by all stakeholders will be in vein.
The Executive Director, Borno State Primary Health Care Development Agency (BSPHCDA) Dr. Sule Mele who spoke on behalf of the delegations (Borno Team), appreciated the warm reception it received from the Government and People of Rwanda.
Dr. Mele noted that the week-long Study Tour of Rwandan Health Facilities by the delegation have given them the opportunity to see and learn how PBF is being implemented, collation of Data Management on Health Information System, and promised to take back home all the experience(s) acquired in the fields visited in order to strengthen the health system at both secondary and primary health institutions in the state.
Dr. Mele who applauded the commitment Governor Kashim Shettima's administration has put in the health sector in Borno, through prompt payment of counterparts funding to World Bank and other donor agencies, said, the AF- NSHIP which started as a pilot scheme in two Local Government Areas of Jere and Maiduguri Metropolitan Council, is now scaled up to Biu, Askira- Uba, Magumeri, Kaga, in addition to more Council areas which have been earmarked to benefit in the next quarter.
Earlier the Delegation which had Borno Health Policy Makers including Commissioners of Health, Local Government and Emirate Affairs, State Attorney General and Commissioner for Justice, Finance,Technical Adviser of AF- NSHIP, PIU members and other stakeholders had after various discussions/presentations, visited Mayange Primary Health Care, Nyamata General Hospital, Camerwa Central Medical Store, Waste Management in the city of Kigali and other Provinces.
The delegations are expected to depart from Rwanda to Nigeria on Sunday next week.
en
SOURCE :The Nigerian Voice (local news)