Borno State facing serious challenges following resurgence of Boko Haram activities: Gov Shettima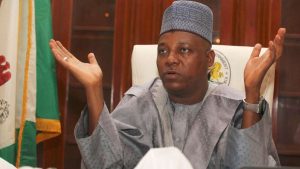 Borno State, Governor Kassim Shettima, has said that the state is currently faced with serious challenges foloowing the reurgence of Boko Haram insurgency in the state.
The spoke in Maiduguri on Monday at the emergency extraordinary security meeting he convened to seek ways to address the situation.
Daily Trust reports that the governor said the meeting was aimed at collecting range of ideas to chart a more decisive course in combating the re-surging insurgency.
He said, "We are principally here as a family, as a people all affected by the situation in Borno State, to discuss suggestions that will hopefully contribute to combined ongoing efforts towards addressing the problem. So much was achieved by the military in combating Boko Haram insurgency.
"We are today faced with serious challenges in Borno State. These challenges should strengthen our abiding faith and resolve to continually do whatever we can in support of our military, the police, the DSS, our Civilian JTF, all para-military agencies and political authorities at the federal level, to end the Boko Haram insurgency."
The newspaper quoted Shettima as saying that the meeting was not to pass blames or verdict on the security agencies.
"I think the most inhuman way to go is to gather and condemn those who are putting their lives on the line and giving their lives in efforts to find peace," he said.
He added: "We all have stakes in the peace and stability of Borno and this is why we chose to hold an extraordinary security meeting with carefully chosen participants. Our focus should largely be about finding solutions. We all know the situation of things. Let us, as a family with equal stakes, suggest solutions that will, insha'Allah, contribute to addressing our problems."
He said President Buhari was devoted to the fight against Boko Haram "and I believe that service chiefs, the IGP, the DG of DSS and heads of all para-military agencies share the commitment of Mr President. Most importantly, troops in the front lines, have laid their own lives, proved their commitment in the service of our country and in obedience to the President, Commander-in-Chief. The president has mobilized world leaders in support of Nigeria's fight against Boko Haram. He has fostered regional cooperation and he supports troops."
He said he had not criticised the Buhari government or the Nigerian military over situations in Borno because "unlike in previous years when I was treated as an enemy of the Presidency, I have from 2015 to date, gained unfettered access to the President. I see the Commander-In-Chief at the shortest request and I tell him my concerns, he listens to me with keen interest and in most cases, he takes measures. I have not had reason to be frustrated with the Presidency, unlike previous years.
"Let me say that even under the previous administration, I regularly supported and defended the military. When I said in February 2014, that the military was not being well equipped, it was not a comment by design, it was a spontaneous reaction which came out of frustration and it was in defence of the soldiers being killed in front lines. I knew the problems."
en
SOURCE :The Nigerian Voice (local news)