Borno State Govt Blames 500 Pensioners For Inability of Verification Committee to Pay Their Pensions..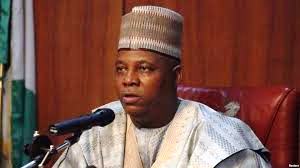 By Ahmed Abu, The Nigerian Voice, Maiduguri
No fewer than 12,000 ghost workers have been uncovered by Bornu State government amounting to N500 million salary monthly as 'ghost' wage.
This was disclosed when aggrieved state pensioners, yesterday, invaded Musa Usman state secretariat Maiduguri closing the main entrances of the Secretariat protesting non payment of their outstanding pension arrears and gratuities since 2016.
Giving an explanation on the matter while briefing officials of the NLC and Nigerian Pensioners Association, Governor Kashim Shettima said that more than 33,000 state workers were on the payroll of Borno State government for many years, resulting in N2.5 billion monthly wage bill.
He added that after biometrics, the number of valid workers have dropped down to 20,154, out which 2,000 were preparing to retire from the civil service this year.
Meanwhile, the protesting pensioners lamented on the inability of state government to pay their outstanding entitlements forcing their children to withdraw from schools and some of the pensioners falling partial and permanent illnesses over the non payment of their pensions and inability of the pensioners to pay their children's school fees and cater for their families..
The governor quickly held emergency meeting with the state Chairman of Nigeria Labour Congress, NLC; executives of Nigerian Union of Pensioners and some representatives of pensioners where he put blames on the slow pace of the ongoing data capturing and standardization of pensioners' payments in Borno State due to some errors and mistakes.
He then set up a committee comprising of representatives of all stakeholders including the media representatives and gave the committee two weeks to ensure all concerns regarding the biometrics were cleared.
The governor said the committee involved in the biometrics has beside identifying ghost pensioners, also found out that some persons have collected millions as pensions while they are still receiving salaries as workers on double standard.
Shettima further noted that more than 9,000 pensioners have been cleared so far and enlisted in the biometrics while others are presently receiving their pensions.
He explained that only 500 pensioners have cases with their biometrics, out of which 171 have been cleared by the committee, but they have failed to present their bank statements as part of the requirements for enlistment into the biometrics committee documentation for payment.
en
SOURCE :The Nigerian Voice (local news)