BREAKING: Journalists Barred From Covering Kanu's Trial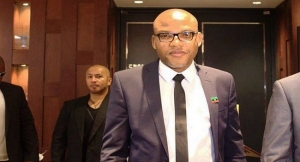 The trial of Nnamdi Kanu has resumed on Tuesday at the Federal High Court, Abuja.
Journalists, have however, been barred from covering the ongoing trial of the self-acclaimed leader of the Indigenous People of Biafra (IPOB).
This is against the earlier judgement by the presiding judge, Justice Binta Nyako, who ruled that the trial should not be secret.
The street leading to the Federal Capital High Court has being barricaded by officials of the Nigeria Security and Civil Defence Corps (NSCDC), the Department Of State Services, the police and officials of the Nigeria Prisons Services.
The trial is on-going without media coverage.
Nnamdi Kalu is standing trial alongside three other pro-Biafra agitators for treason.
Meanwhile, there was mild drama in court as a former minister was prevented from witnessing the today's ruling.
Source: Channels Tv