Breaking News: 2019: Obasanjo, Jonathan, PDP Govs Hold Meeting With Atiku in Yola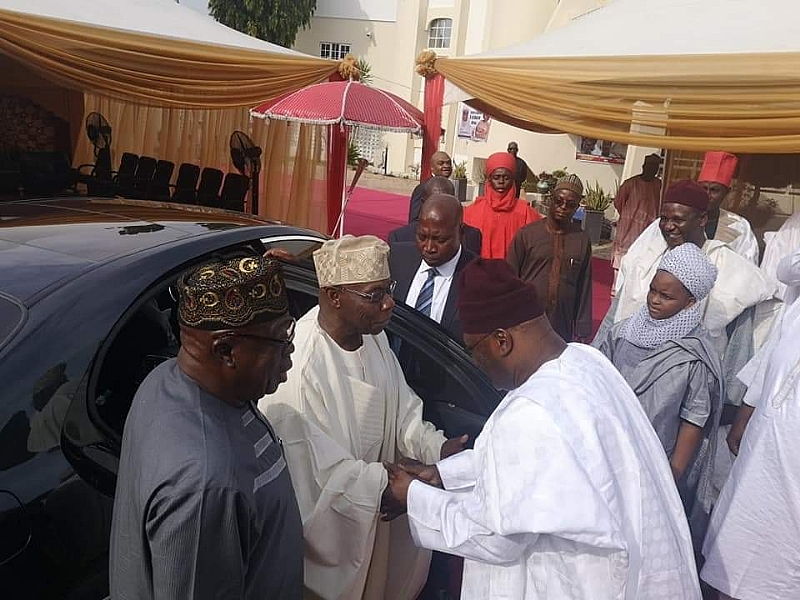 By Ahmed Abu, The Nigerian Voice, Maiduguri
Former President Olusegun Obasanjo and former President Goodluck Jonathan as well as some PDP Governors have joined former Vice President And PDP 2019 Presidential Candidate, Alhaji Atiku Abubakar to pay homage to Lamido of Adamawa at his palace in Yola today Sunday.
The Spokesman of Atiku Abubakar, Mr. Paul Ibe said at the meeting, Obasanjo praised Atiku Abubakar, who was his vice president noting that despite their differences, they have reconciled since before Atiku became the party presidential flag bearer of of the strongest opposition party to APC in the 2019 presidential election.
He added that the former President Obasanjo who ruled this country for 8 years from 1999 to 2007, gave a brief recount of his experiences at the Yola Prisons following his incarceration by then military regime of late General Sani Abacha .
According to him, Obasanjo also said the Yola Prisons and Lamido of Adamawa's palace were only separated by a wall.
Paul said that it was a remarkable moment for Atiku Abubakar who was present at the event. Mr Ibe told newsmen that Obasanjo had assured the Lamido of Adamawa that Atiku Abubakar would not disappoint the country when he eventually becomes the president in 2019.
"He said Atiku Abubakar would do his job with dignity, integrity and honour," Ibe said.
It was however gathered that, shortly after the meeting, Obasanjo, Jonathan and Abubakar rode in the same bus with some governors to the home of Atiku Abubakar for lunch before leaving for the Yola International airport.
en
SOURCE :The Nigerian Voice (politics)