Breaking News: Osun court struck out suit on Senator Adeleke's certificate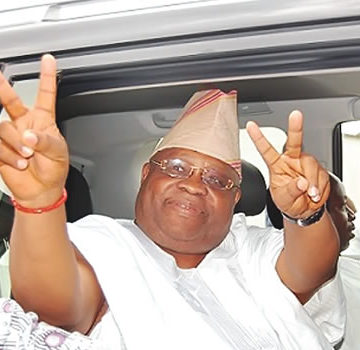 By Olawale Adewale, The Nigerian Voice, Osogbo
An Osun State High Court in Osgobo today struck out a suit on certificate of Senator Ademola Adeleke and his eligibility to contest in the forthcoming governorship election in the state next month.
The plaintiffs, Rasheed Olabayo and Oluwaseun Idowu who are members of PDP in Osun had claimed that Senator Adeleke did not possess Certificate and urged the court to restrain PDP from presenting him to the Independent National Electoral Commission (INEC) as candidate of the party.
They also urged court to restrain INEC from accepting Adeleke from PDP as its candidate on the basis that the Senator was not qualified, quoting Section 177 (d) of the 1999 Constitution.
In his ruling today, Justice David Oladimeji said the claims of the plaintiffs that Adeleke does not possess school certificate cannot disqualify him from contesting the election because the constitution does not state that a candidate for the office of the governor must possess a certificate.
Justice David Oladimeji struck out the case on the basis that whether Adeleke obtained a certificate or not cannot be used to disqualify him and that the fact that he attended a school is enough for him to contest in line with the constitution.
en
SOURCE :The Nigerian Voice (local news)