Buhari Is A Shammer Jammer!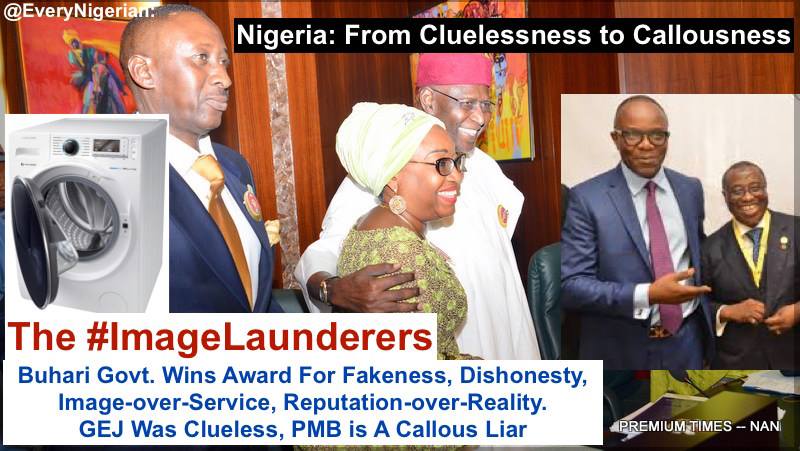 Farooq Kperogi was one of the first staunch Buhari supporters to reluctantly declare that Buhari was worse than Jonathan. He did so way back December 2016. I just admitted it. In desperation, Nigeria replaced one bad man with a worse pretender. I call him a "shammer jammer."
Buhari's latest sham jam was just in the news. Nigeria's SGF is to compel police IG Ibrahim Idris to settle with Senator Hamman Misau out of court. The allegations against the chief of Nigeria's police are irredeemable to put it mildly and sham jamming them by Buhari is beyond impeachable. The allegations are unbecoming of a private businessman, talk-less a police officer and the nation's police chief for that matter. Things like "hiring a retired officer for police investigations," "buying cars for the president's wife," "impregnating colleagues" and other unmentionables. What an example! But the allegations get even worse. The Senator accused the police chief of running a force where hundreds of thousands of naira were collected for special promotions of officers, and where private companies paid millions of naira to rent police protection with the money unaccounted for and the chartered police unavailable to secure the masses. He described that half the Nigerian police force had been bought to secure the cabal, leaving the nation grossly under-policed. Little wonder Nigeria's police force was recently appraised to be the worst in the entire world. You can read many of the allegations here: https://www.vanguardngr.com/2017/10/misau-appears-senate-cttee-says-igp-idris-bought-2-suvs-buharis-wife/
In reaction to all this and without regard for Nigerian lives endangered and being lost daily by such a police boss if the allegations are true, Buhari simply shammer jammed. Buhari has sent the SGF to get the parties to settle out of court "to avoid overheating the polity and not to allow the opposition party, the Peoples Democratic Party, PDP, take advantage of the situation to rubbish the federal government," Vanguard quoted from a source. [ https://www.vanguardngr.com/2017/11/misau-fg-moves-settle-court/ ]
What a sham jam! May God deliver us from the evil of politicians.
With the police rendered useless and prioritized to the cabal, dictator Buhari has unconstitutionally turned over policing the state to the army who massacre youth as though they are in Sambisa. Another sham jam method!
Earlier when minister of state Ibe Kachikwu complained bitterly about the possible misappropriation of 26 billion dollars by NNPC GMD Baru, Buhari simply sham jammed the matter.
SERAP had to take the Buhari government to court to get a court order compelling them to release the list of names of the thieving cabal who stole Nigeria's endowment and the deals they had with this government, but in spite of this, Buhari has kept their identities sham jammed.
When Ayodele Oke and Babachir Lawal were caught red-handed, he shammer jammered the matter for six months till the public outcry was too loud to bear. Then he dismissed them and sham jammed it again by stopping their arrest and investigation.
When Buhari plagiarized speeches, he concealed the culprits and sham jammed it. I can go on and on. Health status, sham jammed. Promise to sell two presidential jets… no further details of that ever happening in public domain. It's been shammer jammered! Buhari's medical tour cost, sham jammed. Amount allegedly given to Boko Haram to free 80 abducted girls, sham jammed.Nasty, Goodforsaken, dead-on-arrival Atiku challenged his spot, promptly shammer jammered while leaving other cabal clear of shams and jams. Maina waltz in, Maina waltz out, still paid after he leaves, shammer jammered. Sham, jam, shammer jammer.
It would be really sad if Buhari only succeeds in accomplishing the deconstruction of his legacy this second appearance. Time is running out.
Dr. PerryBrimah.com; @CabalMustGo revolution can be joined on WhatsApp: +1-929-427-5305 ; Follow @EveryNigerian on twitter or via Facebook.com/CabalMustGo
en
SOURCE :The Nigerian Voice (opinions)