Buhari to expand his cabinet to bring more supporters on board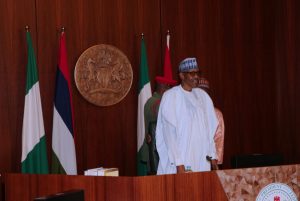 Now faced with demands by his party for more inclusiveness and patronage, he said he would be shifting ground soon.
The "compressed Federal Executive Council", he said, "will be expanded to bring in more supporters at Federal Level, with fresh ideas to be injected into the government". He did not indicate whether he will.
Similarly, the President also hinted he will be appointing more people to the boards of government agencies and corporations.
"Last year I said we would re-constitute the Boards of Parastatals. I must regret the fact that we have not done so, for many reasons.
"Some of us in this meeting may know I had given instructions since October 2015 for this exercise to start. But there have been inordinate delays through several Committees in an attempt to get the balance right and to make sure all parts of the country are equitably represented.
"On the other hand, I am keenly aware that our supporters are very eager for these appointments to be announced. By the Grace of God, these appointments will be announced soon. Especially now that the economy is improving, we will have the resources to cater for the appointees.", he said.
en
SOURCE :The Nigerian Voice (local news)