Buhari's 2nd Advent, The Day God Forsook Nigeria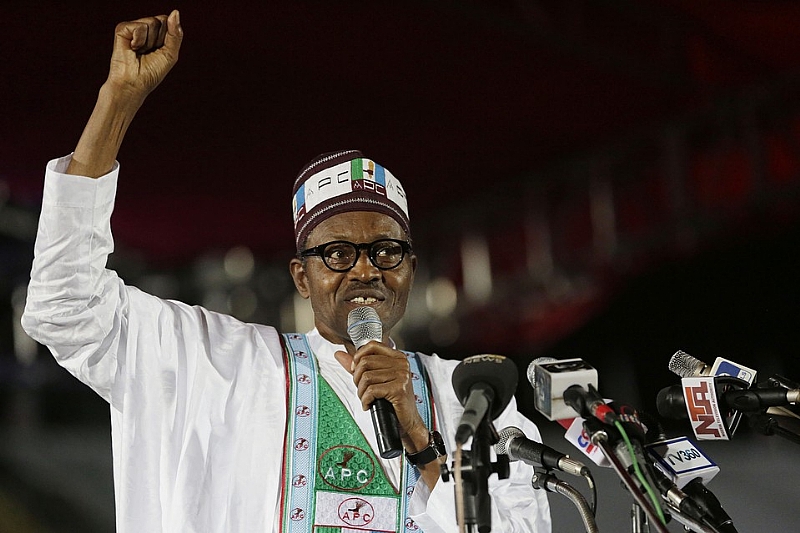 I have found it absolutely necessary to write again in the course of our nation's chequered history. There is no denying the fact today that we have become objects of ridicule before the international community and therefore treated with disdain by our host communities abroad thanks to Buhari's outlandish remarks against the citizens of the country he supposedly presides over.
Sometime in 2016, President Buhari, you will all recall, while speaking to The Telegraph in an interview published on February 12, 2016, to be precise, titled "Nigerians' Reputation For Crime Makes Them Unwelcome in Britain" did say Nigerians have a penchant for criminality. This single outlandish remark sparked media storm and outrage against the president both at home and abroad and the stigma has remained indelible to this day which our host communities around the world often cash in on to unleash fury on us calling to mind the mindless killing of Nigerians particularly in the Union of South Africa and the rest of the world.
That was not the first time he had said that. Soon after he overthrew the democratically elected civilian government of Alhaji Shehu Shagari, Buhari was quoted as saying that the bulk of Nigerian citizens was useless, senseless and corrupt and that disparaging remark was recorded against our countrymen by the international community which often speaks volumes for the degrading and inhuman treatment of Nigerians in some countries in Asia particularly India and China.
I have often had to contend with the hostile dispositions of the above-named in my countless adventures around the world. Again, in the just-concluded Commonwealth meeting of the Heads of States and Governments, Buhari did say a lot of Nigerian youths are lazy and want everything gratis ranging from housing, medical care to food being a frontline oil-producing nation.
These horrendous remarks and attacks at different points in history are what any sane person should condemn in its entirety considering the damage it has done to our individual and national psyche.
For starters, the bulk of the youth that gave their votes to President Buhari in the 2015 federal elections was probably born in 1984 and are quite unaware of what his first advent was like. Some of them by my calculation should be 34 years old and may have settled down to family life. The year 1984 and following were the worst in our nation's history when he first made his incursion on Nigeria's political scene.
What we had was nothing short of Tzarist repression amid debilitating hunger resulting from sheer incompetence. Nigerians had to start queuing up for food in our major cities which spoke volumes for the stiff resistance we mounted in 2014 against his re-emergence as Nigeria's president during the historic merger that gave birth to the then main opposition party, the All Progressives Congress (APC).
At the period under sad review, Nigerians would vividly recall that many were sent to their untimely graves resulting from hunger, malnutrition and the savage barbarism teetering on the very edge of bestiality which unavoidably triggered a palace coup.
In other words, that draconian visionless and directionless regime was overthrown by General Ibrahim Babangida. That palace revolution became a welcome relief which was greeted and celebrated across the country. The food that most Nigerians had not to eat became surplus with the duo of Babangida and Abacha now in charge. It was a period which would live in infamy in the annals of Nigeria's political history.
The election that brought him back would at best be described as the day God forsook Nigeria. I need no seer to tell me we would again be up against hard times seeing that the name Buhari is synonymous with evil. That day would also go down in history as the day the evil sun had to set over Nigeria at noon.
I have always known he has nothing to offer apart from sorrow, horror, misery and tears and events playing out today is a testimony to that incontrovertible fact. He did say in the build-up to 2015 general elections that if what happened in the previous elections repeats itself the dog and baboons will be soaked in blood and in preparation for a violent storm of bloodletting, we had it on good authority that the services of armed militia from neighbouring West African countries were retained but fortunately or unfortunately the then President having sensed an imminent danger cleverly avoided it and handed over the reins of power in spite of the massive electoral fraud via doctored results that came from Kano.
It took Buhari, who was unprepared for governance, oceans of time before he could assemble a working cabinet which in the end proved incapable all things considered as the economy has continued to spiral downward.
Jonathan handed over to him an economy reckoned to be one of the fasted growing economies in the world at the time! This is a statement of fact which no sane person will ever dispute because we were all living witnesses.
Buhari again told a stunned international community that we have a penchant for criminality in February 2016 while speaking to The Telegraph back in the UK. This was a man who committed a High Treason by sacking a democratically-elected civilian government and like a marriage that has been annulled, he had the sovereign wishes of Nigerian voters bastardized!
This same old man again told the world that a lot of us are lazy and therefore want free food. One question that agitates this writer is how many safety nets have Buhari and the All Progressives Congress established across Nigeria where food and provisions are given gratis to the unemployed? There is none! So where did the idea of free food come from? You see, the leopard, it is said, can never change its spots. Many of us in this part of the Old World suffered and spent years studying back home with degrees culminating in Masters and Doctorate but had to jump on the bandwagon to Europe in search of the proverbial greener pastures but only to be told by a crass opportunist that we are lazy and uneducated in sheer disregard for my over seventeen years of formal education back home in Nigeria.
Buhari and his All Progressives Congress have consistently lied to Nigerians, in fact, it is on the back of lies that he rode to power amid threats and other illegalities capable of attracting a capital forfeit. Lies are still being churned out from the APC propaganda machine this time with undiminished intensity!
Today, the race is on and every dissenting voice is marked for a possible elimination or runs the risk of being thrown in stir without trial, even when they are tried the judges have their hands tied as they have no option but to do the bidding of the Aso Rock overlord whose wish is to see every Nigerian succumbs to his diabolic whims and caprices and further have them kept under a permanent subjugation.
The sin of the Benue people is their refusal to be lorded over by accepting cattle colonies proposed by the tyrant in Abuja. It is either they accept it or have the fury of Janjaweed armed militias they imported from the Islamic Maghreb to contend with. Frankly, the Fulani herdsmen, for all I know, do not wield guns and other dangerous weapons in the course of their nomadic pastoralism.
A while ago, I read a statement issued by a faceless group under the auspices of Edo South Coalition threatening to begin a process of recalling Senator Matthew Urhoghide for calling for Buhari's removal from office via impeachment. I am Nigerian of Edo extraction and therefore in constant touch with my people back home. The mournful wail across the country is a political volte-face which Edo people both at home and in the Diaspora are not exempted from. Senator Urhoghide has doubtless spoken the minds of many Edo people and by extension the minds of the generality of Nigerians who yearn for a reversion to the status quo ante. The faceless criminals further said their threats against the senator will be carried out if he fails to apologize within 48 hours.
As if that is not enough Adams Oshiomhonle and Governor Godwin Obaseki had to mobilize their thugs to both protest and cause mayhem against the senator for calling for Buhari's impeachment to safeguard Oshiomhonle's bid for APC chairmanship and this plot to embarrass the distinguished peoples' Senator was hatched a while ago at the airport of Benin City. I pity those youths who do not see beyond their nose and allow their future to be mortgaged for peanuts! There is no way the above-named can extricate themselves from their culpable acts of criminality because power like a cold spell is transient. These faceless criminals in Obaseki and Oshiomhonle's payroll do not genuinely represent our people and are therefore better off identified as none other than misbegotten Homo Sapiens from extinct barbarian tribes.
Everyone knows the widespread anti-Buhari feeling across the country resulting from failed leadership so much so that a certain American university professor during a recent public lecture cited Nigeria under Buhari as an example of a failed African state where every government institution and machinery has broken down!
This remains the worst government in Nigeria's history and, in fact, does not even qualify for one if you ask me. The APC criminal cult will inflict more injury on Nigerians and it is better to cast them overboard now or we all would have more woes and misery to contend with. This, of course, will be difficult with Buhari's in-law, Yakubu Mahmood as the head of Nigeria's electoral umpire, the Independent National Electoral Commission (INEC)
This is an administration where virtually everything has gone wrong. Do Nigerians expect 2019 elections to be free and fair with Buhari's in-law in charge of INEC coupled with their power of incumbency? I think those who think the forthcoming elections would be conducted on a level playing field certainly have a second think coming. That is the reason why I suggested in my previous piece that Nigeria must go back and adopt the open ballot otherwise known as Option A4 to dismantle the infamous APC rigging machine because you know as well as I know that on a level playing field Buhari will not be re-elected under any guise except by those who benefit from their ongoing repressive excesses and members of his immediate family blinded by partisanship who hail from the desert cotton fields of Daura.
Iyoha John Darlington, a writer, social activist and a public commentator on national and global issues and until recently the International Media Aide Consultant of the Green Party of Nigeria (GPN).
en
SOURCE :The Nigerian Voice (opinions)