Buratai: That Moment Of Truth On BBC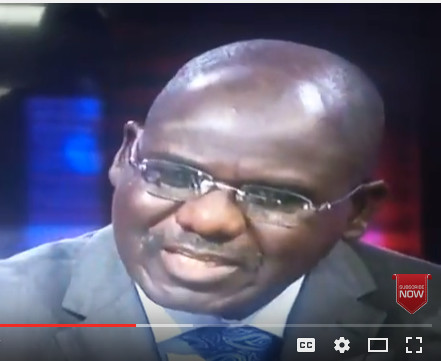 Nigeria's Chief of Army Staff (COAS) Lt. Gen. Tukur Yusufu Buratai is admired in multiple ways. He is a soldier who stands up for the truth and a puritan to a fault. His disarming frankness, hard work and flair for excellence are largely responsible for his meteoric rise in the Nigerian Army.
In a publicized interview on July 3rd, 2017, Gen. Buratai , who featured on the BBC HARDtalk programme, anchored by Stephen Sackur spoke on a range of issues, including state of the counter-insurgency campaigns in Nigeria and particularly in the Northeast. The COAS who has spent the last few years of his career fighting Boko Haram terrorism, first as Field Commander, Multi-National Joint Task Force (MNJTF) and now, as Nigeria's COAS and leader of the counter-insurgency war stated lucidly that militarily, the Islamic sect, Boko Haram insurgents have been defeated.
Buratai was explicit that; " I don't think anybody has said Boko Haram has been eliminated. Terrorism is something that is resilient. Today we have gained tremendously. Before May 2015, the Boko Haram were even in Abuja; they were in Kano; they were in Kaduna; they were penetrating down to the South. And we had to stop them. "
"And for the past one and a half years, you have not had any attack in Jos, either Abuja or Kano or many other places. Not even as close as Gombe, where we had several attacks. You have never had it. Now, they are only concentrated in certain areas in Borno state and parts of Yobe state," he explained…If you talk in terms of military action; militarily, Boko Haram has been defeated."
The crux of the message by Gen. Buratai on state of the terrorism war in Nigeria is clearly discernible and can be dissected on three planks. First, terrorism is a devilish vice that has traits of resilience and so, no one has claimed elimination of Boko Haram insurgency completely.
And secondly, Nigerian troops have been able to substantially curtail its unbridled influence reflective in the previously widespread attacks in major cities and states in Nigeria, which are now reduced to attacks in parts of Borno and Yobe states. And also, Nigerian troops have been able to curb its incursion into the Southern part of the country.
And thirdly, the cumulative effect of the situation interpreted together alludes to the incontrovertible reality that Nigerian troops have defeated Boko Haram militarily. Combatively, it has recorded immense gains against terrorism in Nigeria.
But Nigerians have a confounding capacity for mischief. The Gen. Buratai's brief interview on BBC, presented in plain language has been misinterpreted by mischief makers. Even if these Nigerians considered it too cumbersome to digest the literature of terrorism emanating from other parts of the world which have suffered the terrorism scourge, Gen. Buratai offered them the sketch of it.
Unfortunately, they never burdened themselves with listening to dispassionately decode the contents of the interview appropriately. They preferred to form opinions, which have no nexus with what the Army Chief uttered. Thereafter, they rushed to the media in disputation of the exclamations of the Army Chief.
Therefore, expectedly, Sen. Abubakar Kyari , representing Borno North senatorial district, instantly countered the claims of Gen. Buratai, that Boko Haram has been defeated. And his only reason for mouthing this illogicality were his claims of knowledge of information that Boko Haram terrorists have regrouped and plotting to soon unleash a serious attack on the state.
Senator Kyari failed to crack between the words, "elimination" and "defeat" of Boko Haram terrorism as Gen. Buratai clearly explained in the concept of the resilient character of terrorism anywhere in the world. By the Army Chief's exposition, the fact that activities of Boko Haram insurgents have been restricted to occasional strikes on targets' in parts of the two states is indication of the defeat. This is a remarkable difference compared to the past when terrorism was felt almost in all parts of the North and beyond, which expressed differently, is their certified defeat.
Forwardly, it is understandable that the total elimination of terrorism in the country will stretch overtime, before it eventually fizzles out. But for now, intermittent attacks by remnants of Boko Haram insurgents will continue and these attacks have serious undertones.
From all nuances of assessments, the subsisting Boko Haram attacks are not from the original religious and combative sect of Boko Haram insurgents . It is the political cum business wing of terrorism in Nigeria that is at work. So, it is more a combat for the political leadership and its business collaborators than the guns of soldiers.
It was former President Goodluck Jonathan who first raised the alarm about the existence of three sects of Boko Haram insurgency in the country. He identified them as the original religious sect of Boko Haram; the political and the business wings of Boko Haram terrorism. And the types are self-explanatory.
There is no gainsaying that based on combat on the battlefields; Nigerian troops have defeated the Islamic sect of Boko Haram terrorism. It accounts for why they are no longer strong enough to generously spread atrocious attacks on Nigerians in different parts of the country as obtained before May 2015.
Gen. Buratai personally led troops to confront them in the caves, forests and other hideouts and smoked them out. The dismantling of the Sambisa forest was the final indication of the defeat of the religious sect of Boko Haram terrorists. Nigerian Army ensured their sources of foreign funding in food supplies and weapons were blocked. These terrorists and their families starved en masse and started surrendering to the Nigerian Army in droves since 2016.
This is also evident in the recent declaration of armistice and surrender by over 700 Boko Haram insurgents and among them, top commanders, on the list of most wanted terrorists declared by the Nigerian Army.
The political and business wings of Boko Haram insurgency have sustained presence with the sporadic attacks. Both play complementary roles. The political wing of terrorism is funded by some dubious politicians, whose poor records of representation of the people are afraid that given a free atmosphere, the electorate would terminate their political ambitions with the ballot. So, they have continued to sponsor dissident elements to keep detonating bombs, to scare returning IDPs and to create the general impression of a hovering threat of terrorism in Borno and Yobe states.
The business wing of terrorism operates on the ideology of profiteering. Some of them have links to external sponsors of terrorism, who pay them handsomely as agents. Yet, others are into the business of trade in weaponry and when Boko Haram festered overpoweringly, it provided ready markets for these criminal Nigerians, who reaped from it bountifully.
These set of terrorists agents are aversed to news about the complete elimination of terrorism in the country, because it will collapse their business empires in arms trade. They are part of the sponsors of the skeletal terrorists' bombs detonating in parts of Borno and Yobe states.
Consequently, Nigerian dissipating energies in attacking, refuting and encouraging terrorists with views about the strength and existence of terrorists are causing more harm to themselves than the country. They independently conduct their own research on why snippets of terrorism still exist in Borno and Yobe states.
Nigerian Army has defeated Boko Haram terrorism; but if Nigerians want it totally eliminated, it is more a battle of conscience and attitudinal change than military action. So, it would be more worthwhile to engage the politicians and the businessmen nourishing terrorism for personal gains than descend on the Nigerian Army. This is the moment of truth.
Angula writes from the United Kingdom.
en
SOURCE :The Nigerian Voice (opinions)