Catholic Bishops call for mega protests over killings as church prepares to bury slain Benue priests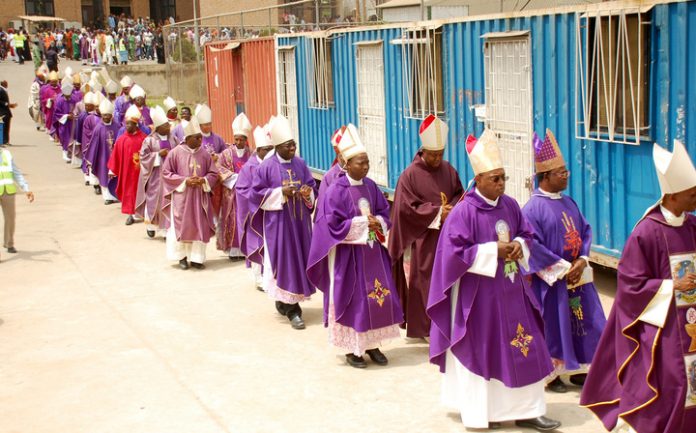 By Uchechukwu Ugboaja – Abuja
THE Catholic Bishop Conference of Nigeria, CBCN, has called on all its members nationwide to brace up for the mother of all protests, this is in response to the ongoing killing of Christians in various parts of the North prominent among them is the recent murder of two Catholic Priests in Benue State, North Central Nigeria.
The call is contained in a letter signed by Ralph Madu, a reverend father, made available to Uchechukwu Ugboaja by the CBCN secretariat asking every Diocese to organise a 'Peaceful Rally' or 'Rosary Procession' or any other appropriate demonstration of solidarity on Tuesday May 22, 2018.
The statement said thus: "I wish to remind Your Eminences and Your Excellencies of the directives of the CBCN that every Diocese should organize a peaceful rally or Rosary Procession or any other appropriate demonstration of solidarity on Tuesday 22nd May, as the funeral of the two priests and 17 others killed during last month's attack by Herdsmen/Terrorists would be going on in Makurdi, at 10 am."
While we would be reminded that pockets of protests have be carried out by Christians from different parts of the country, the CBCN Secretariat encouraged Catholic faithful especially bishops who could make it to Makurdi, the Benue State capital for the funeral Mass of the slain priests ensure to do so.
"Bishops who can make it to Makurdi for the funeral Mass are encouraged to do so, as we pray that this directive be communicated to the clergy, religious and the faithful in the most effective way possible," the statement said.
There have been reports of an amateur video widely circulated online showing armed gunmen alleged to be killer herdsmen making mockery of a Church which was suspected to be invaded in a rural community in Northern Nigeria as they were seen playing various musical instrument belonging to the worshippers while adorning their choir robes.
As at the time of filling this report we were unable to ascertain the location where the video was shot or the veracity of the said visuals. However, the gruesome murder of the Benue priests and the kidnap of 106 school girls including Leah Sharibu who still remains in the captivity of the dreaded terror group as a result of her Christian faith epitomises the state of insecurity across the country especially in the Northern region.
It would be recalled that President Donald Trump condemned the killings of Christians and promised that the United States government would take strong measures against such further acts during President Muhammadu Buhari's recent visit to the White House.
en
SOURCE :The Nigerian Voice (local news)