CBN to engage 400,000 youths in farming under AADS scheme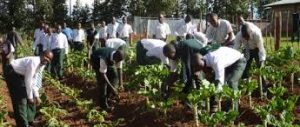 The Central Bank of Nigeria will engage over 400,000 youth farmers in the country under the Central Bank of Nigeria (CBN) newly introduced Accelerated Agriculture Development Scheme (AADS) in the next 12 months.
The special agricultural programme is expected to focus essentially on youths, in the 36 states of the Federation and the Federal Capital Territory.
It targets to bring on board a minimum of 10,000 young farmers per state.
According to Sources at the CBN, the bank is engaging in the programme as part of the Federal Government's expanded Anchor Borrowers Programme, which is meant to provide jobs for teeming unemployed youths in the country.
An online news platform, Frontiers News, cites one of the sources in the CBN as saying, " The AADS as you know is a special agric programme focusing on youths in the 36 states plus FCT and under the scheme, we are targeting a minimum of 10,000 youths per state for a a start," adding that "it has the potential of reaching 120,000 youth farmers per state".
"The CBN is ready to spend more from the N220 billion to support agriculture. If with N45 billion we were able to produce more than two million metric tons of rice in 12 months I believe strongly that if we invest more in agriculture, Nigeria will be able to meet the six million metric tons of rice which is our national rice needs," the source further stated.
Last Wednesday, the Acting Director, Corporate Communications CBN, Mr Isaac Okorafor, said the expansion of the Anchor Borrowers Programme was to consolidate on the gains so far recorded.
He said that "the CBN is forming these partnerships to further ramp up domestic production of identified commodities by leveraging the existing organized structures of the agricultural associations nationwide, thereby providing huge economics of scale in the implementation of the programme."
The ABP has so far achieved success in terms of outreach and coverage, making it one of the most successful CBN development finance interventions to date. About N45.5 billion has been released through 13 Participating Financial Institutions in respect of over 218,000 farmers cultivating nine commodities across 30 States.
en
SOURCE :The Nigerian Voice (business)