CCT Verdict on Saraki: Nigeria Still Have A Long Way to Go In Anti-Corruption Crusade- CEDESER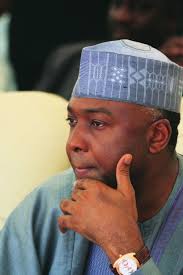 A non-governmental organisation, Centre for Democracy and Socio Economy Rights (CEDESER) has declared that Nigeria is yet to get to its final destination in its crusade against corruption. This is coming on the heels of the recent acquittal of the Nigerian Senate President, Senator Bukola Saraki by the Code of Conduct Tribunal.
Speaking on behalf of the organisation, its Executive Director, Michael Popoola Ajayi, said that the country still have a long way to go, if the fight against corruption as undertaken by this current administration is to become something to write home about.
"It is quite unfortunate that at this crucial stage of national development, that despite all the sensational charges against the Senate President and the damning facts before the tribunal, it still declared, it could not be proved beyond reasonable doubt. It is an unfortunate development and a setback in the current administration's efforts to put the nation on the path of glory." he said.
According to him, the tribunal verdict has confirmed the fear of most Nigerians that if the country is set to get it right, this time around, in its war against corruption.
"In fact, this development calls for a lot of vital reassessment and reappraisal of the Federal Government in its fight against the scourge and compromising role of the judiciary." Ajayi further stated.
Also reacting to another development, the call by the senator representing Kogi West senatorial district, Senator Dino Melaye for a declaration of a state of emergency in Kogi State, CEDESER advised the senator to honourably resign from the upper legislative chamber, as it is clear that he is tired and overwhelmed by the reality of Nigeria's quest for sustainable democratic governance.
According to the Executive Director, as a senator, a major stakeholder in this democratic experience, Melaye has disappointed the good people of Nigeria for calling for illegal dissolution of a democratic institution just to avert his imminent recall by his constituents.
"It is quite saddening that at this critical stage of the nation's democratic development, a member of the national assembly, who is ordinarily expected to be a defender of every democratic ideal, is calling for annulment of the same. In fact, if he is being frustrated by the ongoing democratic process to recall him, he should throw in the towel." Ajayi declared.
Recently, Senator Dino Melaye and the Governor of Kogi State, Yahaya Bello had been at loggerheads. The two former allies had fallen apart due to some political differences.
CEDESER, a non-for-profit organisation is established to mobilise public opinion towards building and sustenance of democratic values and culture in the country. This is by providing independent platform to initiate and support ideas, opinions and strategies that will enhance good and genuine governance, strengthening democratic institutions and encourage equal access to state resources.
Signed
Michael Popoola Ajay
Executive Director
en
SOURCE :The Nigerian Voice (local news)