Chibok And Madagali Residents Flee As Boko Haram Insurgents Launch Attack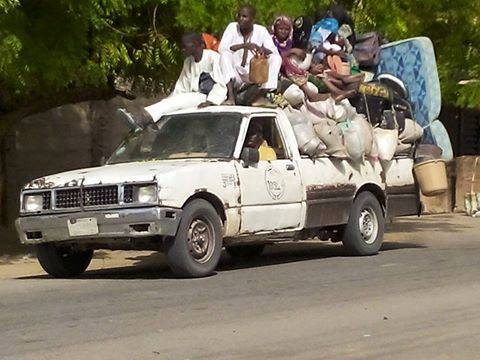 Residents are fleeing Michika and Madagali areas after Boko Haram insurgents razed several villages, and killed scores of people.
Hundreds of villagers from the affected villages as well as neighbouring ones are currently fleeing their homes to Gulak, Mubi and other towns.
Boko Haram reportedly destroyed property in Kuda-Kaya village in a Saturday night attack that culminated in fierce battle with local vigilantes.
This is coming after series of similar attacks on several villages along the Adamawa-Borno border.
The chairman of Chibok Parents Association, Yakubu Nkenke, said one person died when Boko Haram burnt Gatamarwa village in Chibok area on Thursday.
"I am currently attending the funeral of the man killed by Boko Haram on Thursday. The village has been destroyed. Since the beginning of the year, several villages including Daimbo, Makalama. Yimirali-Autlha, Yimirali- Barka, and Yimira have been attacked", he said.
Last Wednesday, a Madagali village, Hantsa, also came under attack in which one person was said to have been shot dead by the armed militants.
In resumed attacks on Monday, the assailants killed a civilian and torched more than 50 houses and shops in Kopa,-Mai-Kadiri in Borno and Kopa-Adamawa on the Adamawa side of the border.
The attacks on the twin villages continued while residents ran to the bush for safety until soldiers mobilised from Madagali area arrived the area.
A fleeing resident, Garga Ayuba from Kopa said he lost all his belongings and did not feel safe in the village since there was no security presence, so he decided to seek shelter in Gulak.
Residents have expressed concern over distribution of troops in the area, lamenting that soldiers are stationed in major towns, leaving the villages unprotected.
"These villages and the connecting bushes are the routes to Sambisa forest and other hideouts of the insurgents. There is need to deploy troops to block these routes and prevent such attacks. The number of attacks on villages is becoming worrisome'', a community leader who sought anonymity said.
The Army Public Relations Officer of the 28 Task Force Brigade in Chibok, Captain Adadoya, promised to get back to our correspondent when he received necessary information, but was yet to do so at the time this report was filed. – Daily Trust.
en
SOURCE :The Nigerian Voice (local news)