Chief Clement David Ebri Joins APC National Chairmanship Contest.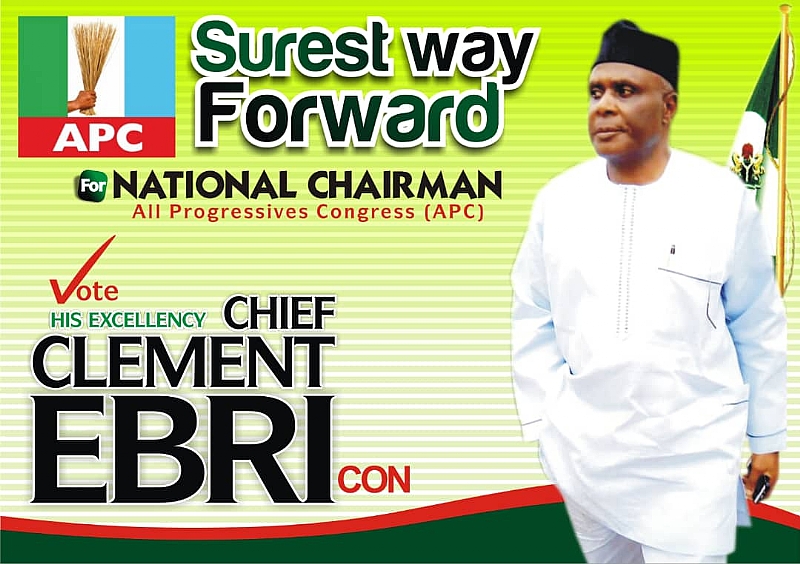 His Excellency, Chief Clement David Ebri, a former Governor of Cross River State between January 1992 and November 17, 1993 and an APC Chieftain has declared his intention to contest for APC Party Chairmanship coming up on the 23rd June 2018.
A political master strategist, Chief Ebri's entry into the contest may pull surprises and upset the already plotted equation. As a vetran in the art of politiking, Chief Ebri may have purposely delayed his declaration in order to accomplsh his victory in a manner peculiar to a political hero that he is.
Chief Clement David Ebri has outlined his agenda for his party when according to his supporters, he takes over the leadership of All Progressives Congress as the next National Chairman of the party. His supporters which cut across the nation believes that as soon as he is inuagurated on the 23rd June 2018 he will activate his leadership prowess to stabilize the party, inject effective leadership, applying his intergrity, credence and pedigree to actualize a more robust and all inclusive vibrant party.
This is coming on the heels of a pronouncement on Sunday by the Governor of Kaduna State, Mallam Nasir El-Rufai at the commissioning of the campaign headquartres of the immediate past governor of Edo State, Comrade Oshiomhole. "Oshiomhole is a brother, leader and friend and the next National Chairman of the APC by Gods grace." APC political watchers are strongly speculating that the emergence of Chief Ebri will dislodge many interest groups in the party.
Meanwhile, APC Northern groups are beating their chest that their friend and preferred candidate, Chief Ebri will emerge as the new APC National Chairman.
en
SOURCE :The Nigerian Voice (politics)