Chief James Ibori marries new wife, Senami Sosu.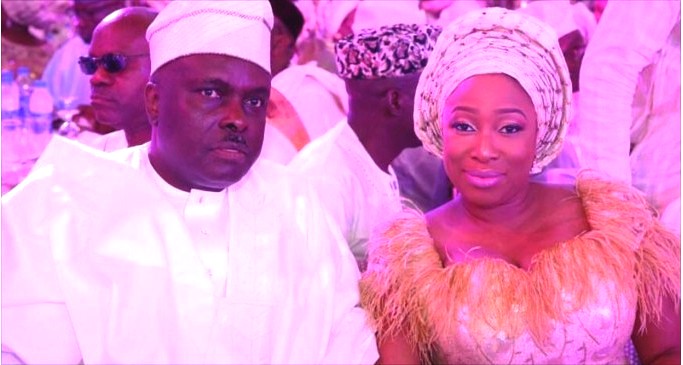 Eventually, love conquers all. It melts the heart of even the stone-hearted. Little wonder it tamed and conquered the powerful politician and former Governor of Delta State, James Ibori. Ibori is in love with Sename Sosu-Ibori. We don't begrudge her. She has weathered the storm with James, why should she not enjoy herself ? You hardly come by such a woman.
Interestingly, however, if she were a cassowary on the plains of Timbuktu, Senami Sosu would flex her wattles like she is the last of the Casuarius breed in the world. Senami is happily married to James Ibori. We can authoritatively report that Ibori married her shortly before he was arrested and later sent to prison. It was a great ceremony that attracted close friends of Ibori in the socio-political milieu.
You couldn't have forgotten so soon, the biblical Peter denied Jesus three times and Brutus betrayed his bosom friend, Julius Caeser, in late Williams Shakespeare's literary classic, but Senami Sosu neither denied nor betrayed her heartthrob, James Ibori, through his trying period. The ravishing beauty stayed true to Ibori while he served out his term in a United Kingdom prison.
This is certainly a rare quality in a contemporary woman, particularly in the age of social media when the thread holding human relationships impair and get severed by the lure of random liaisons in the new digital media space. No sooner than Ibori regained his freedom than Senami reappeared in his life and the country's sociopolitical scene.
It would be recalled that the fair-skinned University of Lagos graduate attained prominence when the embattled former governor of Delta State patronized her, taking her from total obscurity to prominence. But she later quit the social arena and vanished into thin air in the wake of her lover's incarceration. Speculations are that she went into hiding in order not to be caught in the vortex of storms afflicting her former lover and benefactor.
Now the storm is over. Ibori is back for good. The sight of Senami some days ago at Tosin Saraki's wedding ceremony, belies that of a lady who has been through any kind of personal misfortune as she elicited infectious bliss and cheerfulness. In recent time, the drop-dead gorgeous lady has been exhibiting traits of a prospective fashion icon. And with enough money to satisfy her whims, there is no doubt that a major force has emerged on the fashion block.
en
SOURCE :The Nigerian Voice (local news)