Conte: Fabregas needs to play more like Kante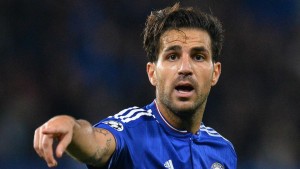 Chelsea manager Antonio Conte has praised Cesc Fabregas' midfield qualities, but says the Spaniard must try to improve his defensive game to be more like N'Golo Kante.
Fabregas was given the nod over Tiemoue Bakayoko to start against Everton, a move vindicated by the 30-year-old scoring the opening goal after Conte's choice had been questioned by fans following Bakayoko's stellar debut against Tottenham a week prior.
Having returned from a one-match suspension after being sent off against Burnley, Fabregas' contribution to the Blues' 2-0 win over the Toffees did not go unnoticed by his manager, though Conte believes his charge still has work to do if he is to retain his spot in the starting XI.
"Cesc played a good game," the Italian told the press after the match, "Like Cesc, all of the players performed very well.
"He scored an important goal for us. We all know his characteristics – he's a great player with good technique. When we have possession, with Cesc, we can play really good football.
"But he's also trying to improve in defensive situations to try and be more strong, to be a bit more like N'Golo [Kante]. But he has work to do, and N'Golo has to work be become more like Cesc with the ball."
With six points collected from their opening three Premier League matches, Chelsea go into the international break sitting sixth in the table and next face Leicester City at the King Power Stadium on September 9.
en
SOURCE :The Nigerian Voice (sport)