Corporate Irresponsibility: The Case of Shel/NPDCl's Attempt to Resume Oil Production in Ogoniland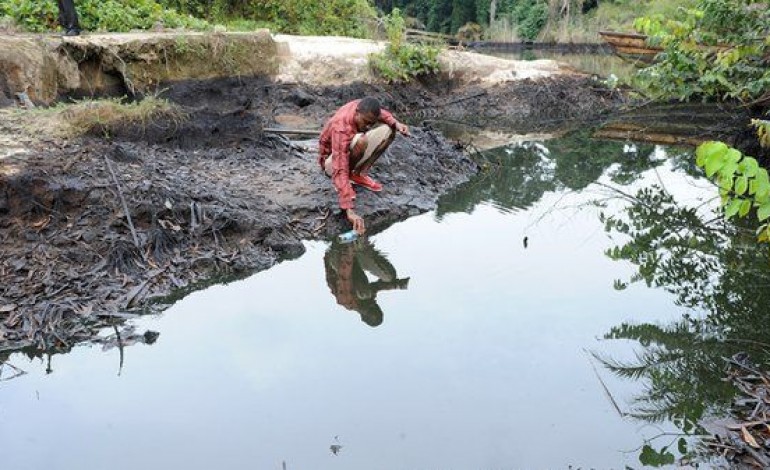 I do not how best to describe Shell Nigeria and her new ally, the Nigerian Petroleum Development Company (NPDC), both of which have exhibited very high level of irresponsibility in Ogoniland.
On Thursday, August 4, led by the president of the Movement for the Survival of the Ogoni People (MOSOP) the Ogoni people protested against a surreptitious attempt by Shell to re-enter Ogoniland. The demonstration clearly represented our disapproval of any form of oil business in Ogoni. We made our position very clear, that no form of oil exploitation should resume in any part of Ogoniland without proper negotiations.
Despite this clear message, Shell continues its sneaky attempt to re-enter Ogoniland. It prosecutes its divide-and-conquer tactics to deceive the public and lie about its intentions.
The company has secretly entered into a pact with the NPDC without any input from the Ogoni people. Shell intends to use the NPDC to prosecute its oil business in Ogoniland.
On Thursday, August 10, Shell's latest ally, the NPDC sent its consultants to Ejama, Ebubu, Eleme Local Government Area in an attempt to lobby a community leader, Chief Agbara. According to an eye witness accounts and representatives of MOSOP, the community leader was reported to have rejected a private meeting with the consultants which led to more revelations about the escapades of the NPDC in Ogoniland.
The scene that played out in Ebubu represents a typical behavior of Shell and her new ally, the NPDC. The NPDC has been reported to be sponsoring armed bandits with a clear intention to cause crises in Ogoniland and to set them against activists oposed to their return to Ogoni oilfields.
The youth leader of Eleme, Jigo Ikani reported today of threats against his life by some persons alleged to be working for Shell/NPDC in the area. The implication is that the NPDC/Shell poses real threat to the lives of Ogoni activists. Shell is well known for such indecent behavior. For example, in 1995, Shell bribed at least one witness to testify against Ken Saro-Wiwa and eighth others and with the support of the then Nigerian federal government, had the nine of them killed.
Shell is largely an irresponsible company. Her understanding of corporate responsibility is not only driven by her racist orientation but deceit. In 2001, before the Justice Chukwudifu Oputa panel the managing director of Shell at the time, Brian Anderson said "we will not return to Ogoniland without the permission of the Ogoni people". Today Shell has a secret deal with the NPDC without input from the Ogoni people and is seeking to enforce this partnership using bandits and cult groups, bribery and a treacherous consultant like them. Mr. Brian Anderson also referred to Shell spills in Ogoniland as mere incidences. Today, a U.N report says it will take 25years to restore the Ogoni environment damaged by Shell. Shell's "mere incidences" has been reported the worst case of environmental devastation in human history.
Shell has definitely tried to always lie about the Ogoni situation but her actions continue to reveal her perfidious character of corporate irresponsibility, shame, and violence against an honest voice to redeem a dying population.
We disapprove of Shell's attempt to re-enter Ogoniland. We accuse them of the killings of 1995 and for the death of over 3000 persons. We accuse them of the ruins of over 10 Ogoni communities whose inhabitants remain in exile till date. We accuse them of genocide in Ogoniland and for the complete destruction of our environment.
We demand they stop further attempts to re-enter Ogoniland. We demand that they cleanup their mess in Ogoni and pay compensation for the loss of livelihoods occasioned by their irresponsibility in Ogoni.
We demand that Shell stop further incursion into Ogoni oilfields
The author, Fegalo Nsuke is the Publicity Secretary of the Movement for the Survival of the Ogoni People (MOSOP). He wrote from Port Harcourt, Nigeria.
en
SOURCE :The Nigerian Voice (local news)