Corruption As Nigeria's 'bermuda Triangle'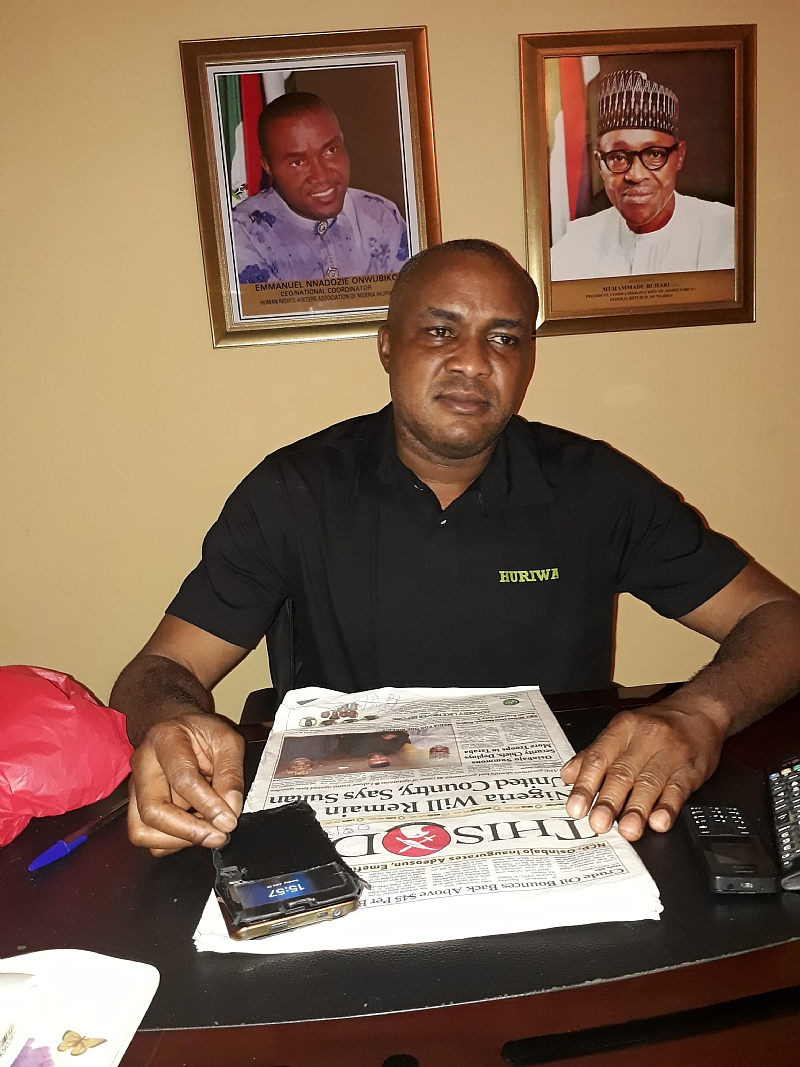 In modern times, most countries have peculiar challenges that are obviously man-made which cripples all developmental goals targeted by the people of such countries to such an extent that the wise persons in those nations are bewildered by the existential fact that their nations cannot surpass their present day backwardness.
In the same vein, different countries also have certain social crimes that they are seriously battling to overcome so as to make their societies the kind of friendly environments that their people crave for with all their passions, zeals and resources.
In the United States of America, the major social vice tearing their society apart, going by news reports, are the intermittent attacks by gunmen who embark on mass shootings. The US has a constitutional provision which allows the ownership of arms but most people are asking that there has to be some controls on how and when to bear those arms.
The debate continues.
In early October, there was a massacre along the Las Vegas strip which remains the deadliest mass shooting in modern American history whereby a 64-year old retiree grandfather Stephen Paddock killed 59 people and injured over 500. No motives have so far been found for such dastardly crime.
In Mexico, the main problem of contention by the government are cases of the bloody violence by dreaded armed drug gangs. Mexico accounts for over 50 percentage of the illicit drugs smuggled into the United States of America yearly.
India faces the social problem of gang rapes of young girls whereas Pakistan has the phenomenon of Islamic terrorism to contend with.
In Africa, the South African government is battling with the black-on-black violence. There are also cases of violent xenophobic attacks of other black Africans living in South Africa.
But Nigeria has the notoriety of being a nation contending with so many challenges including Islamic terrorism, armed Fulani attacks and the almighty crime of corruption by public officials.
A former British premier Mr. David Cameron who was hosting the then newly elected Nigerian president Muhammadu Buhari was secretly recorded telling the Queen of England that Nigeria is fantastically corrupt.
The Nigerian government and some persons living in denial protested this remark by the British politician but millions of other Nigerians accepts that indeed politicians in Nigeria are fantastically corrupt.
The United Nations office on drugs and crime (UNODC) has on many occasions conducted research on the phenomena of official theft of Nigeria's public fund and is known to have concluded that at least $400 Billion USD of crude oil revenues have disappeared into private offshore accounts of different Nigerian officials in the last four decades. Nigerian public office holders including serving military Generals are known to own exotic cars and housing assets in choicest parts of America, United Kingdom and United Arab Emirates.
The transparency international has consistently rated Nigeria as one of the most corrupt entities in modern political history.
It can then be stated without contradiction that corruption is the political Bermuda triangle of Nigeria.
The Bermuda Triangle, also known as the Devil's triangle, is a loosely – defined region in the western part of the North Atlantic Ocean, where a number of aircraft and ships are said to have disappeared under mysterious circumstances", (Wikipedia).
"The Bermuda Triangle is believed to be responsible for the mysterious disappearance of more than 50 ships and 20 airplanes over the past century, according to the U.S Navy" ( livescience.com ).
Reading the above literature on the mystery called Bermuda triangle, why do we now rate corruption as same as the Bermuda triangle in Nigeria?
The answer is to be reached by asking the question of what has happened to the enormous wealth generated over the years from the export of crude oil for instance.
The simple answer is that these humongous sums have disappeared into private bank accounts of privileged political office holders over the years due to corruption.
For instance last year June, the minister of Finance of Nigeria Mrs. Kemi Adeosun was quoted in the media as stating that in the year 2016, president Buhari's administration had spent over N1.2Trillion on capital projects even as she stated that the government would continue to place emphasis on infrastructure spending.
Now here is the catch 50/50 phenomenon around the huge sum quoted by the Finance Minister: the majority of the Federal roads network have collapsed as was attested to by no other person than the Vice President Professor Yemi Osinbanjo during one of his few whistle stops in the South East of Nigeria.
The Vice President was quoted in the media few months before the Finance Minister made her fantastically ridiculous claim of the monumental expenditures invested into the area of infrastructures.
The Vice President Professor Yemi Osinbanjo described the road networks in the South East zone as worrisome.
He spoke while fielding questions from journalists in Enugu, where he attended a function at the Cathedral Church of Good Shepherd, Anglican Communion. He said he even discussed the issue of bad roads in South East with the Enugu State governor Mr. Ifeanyi Ugwuanyi.
Again, the federal government recently claimed to have spent N1.058 billion on the emergency repairs of the Abuja – Kaduna Federal High way but right now pot holes have sprang up and the road has speedily deteriorated. There are no public mass housing that is functional. The Nigerian Prisons are death camps. The Educational and health sectors are in comatose. Most states can't pay salaries and can't meet basic obligations to their people because of massive corruption by state governors. In Kogi State few days back, a Director in the state's teaching commission committed suicide after he wasn't paid a dime of his 11 months salaries and his wife just gave birth to triplets. There's no gainful employment opportunities for youths leading to high incidence of suicide in Lagos lagoons.
The question therefore is where are all these monies? Fela the legend had sang that Nigeria's wealth simply disappears into pockets of political and military leaders. This is a fact.
Certainly, the money may have disappeared into the Bermuda triangle of Nigeria which is corruption.
Certainly, these huge sums must have disappeared into pockets of government officials due to corruption which is the Bermuda triangle of Nigeria which is public corruption by officials.
Apart from widespread poverty and breakdown of social infrastructures, corruption by public officials scares away foreign direct investments because genuine investors are discouraged to put their resources in highly unstable societies whereby corruption is held as an official mantra. China treats corruption as a crime punishable by death but in Nigeria only political opponents who allegedly mismanaged public fund are being investigated. The widening cases of corruption means that foreign direct investments will continue to dry up in Nigeria and the economic misfortunes of millions of our citizens will continue to balloon out of control.
The current edition of The Economist alluded to these consequences of mass poverty when it wrote about the effects of globalization and how some nations have been left behind.
The immediate impression this piece by The Economist creates in my mind is that since corruption is extensively tolerated in public circles in Nigeria as I write, it therefore follows that investors from civilized economics are staying away from Nigeria.
The Economist reports thus:"Economics theory suggests that regional inequalities should diminish as poorer (and cheaper) places attract investment and grow faster than richer ones. The 20th century bore that theory out: income gaps narrowed across American states and European regions. No longer. Affluent places are now pulling away from poorer ones. This geographical divergence has dramatic consequences."
The Economist wrote further:" A child born in the bottom 20% in wealthy San Francisco has twice as much chance as a similar child in Detroit of ending up in the top 20% as an adult. Boys born in London's Chelsea can expect to live nearly nine years longer than those born in Blackpool. Opportunities are limited for those stuck in the wrong place, and the wider economy suffers. If all its citizens had lived in places of high productivity over the past 50 years, America's economy could have grown twice as fast as it did."
"Divergence is the result of big forces. In the modern economy scale is increasingly important. The companies with the biggest hoards of data can train their machines most effectively; the social network that everyone else is on is most attractive to new users; the stock exchange with the deepest pool of investors is best for raising capital. These returns to scale create fewer, superstar firms cluster in fewer, superstar places. Everywhere else is left behind."
As stated earlier, previous administrations enacted laws and created institutions for combating corruption such as the independent corrupt practices and other related offences commission (ICPC) and the Economic and Financial Crimes Commission (EFCC).
But these institutions are encumbered and deliberately undermined by political interferences.
These political interferences and the deliberate weakening of these anti-graft institutions have further entrenched the ignominious role of corruption as the Bermuda triangle of Nigeria. Under the current dispensation there is a cabal entrenched in the Presidency that has perpetrated widespread corrupt practices ranging from collecting bribes from big companies to the award of frivolous contracts to siphon millions of public fund.
That is not to say that there are no laws against corruption. Mike Okiro and Basil Anasoh wrote in their book titled; 'Legal implications of the mismanagement of public fund in Nigeria" that: "Corrupt practices are contained in Section 8 to 26 and Section 64(3) of the ICPC Act.
These offences they argued deal with giving, conferring, procuring any property or benefit of any kind to a public or on a public officer or to or on any other person or promises to give or offers to give, confer, procure or attempt to procure for the benefit of a public officer or any other person; holding or seeking to obtain a contract, license, permit, employment from a government department, public body or other organization or institution in which that public officer is serving, asking for or receiving or obtaining property or benefit of any kind for himself or any other person, on account of anything already done or omitted to be done or any favour disfavor already shown to any person by a public officer in the discharge of his official duties, concealment of crime, destruction, alteration, mutilation, falsification of a book, document, valuable security, account, computer system diskette, computer printout or other electronic device or the making or privy to making false entry in any such book or electronic record or account or the omission or privy to the omission of any material particular from any such book, document, account or electronic record.
The sections they said also deal with the offence of bribery of public officers, offence of using office or position for gratification, bribery in relation to auction, bribery for giving assistance in regard to contracts, duty to report bribery transactions, dealing with, using, holding, receiving or concealing gratification, making of statement which is false or intended to mislead and attempts, preparations, abetments and criminal conspiracies punishable as an offence.
The punishment for the offences range from 7 years, 5 years, 3 years, 1 year or a fine of fifty thousand naira.
The current administration has so far tolerated corruption committed by members of the ruling party.
Till date, the investigation of the suspended secretary to the government of the Federation Babachir Lawal indicted in the heist of over N300 million from the North East development fund is still shrouded in secrecy even as president Buhari has so far refused to act on the reports recommending the prosecution of this top politician and a personal friend of the president.
There is also the case of the over $50 million cash discovered at the Osborne flat in Lagos which the Director General of the Nigeria Intelligence Agency laid claim to as belonging to the agency even when the anti- money laundary Act regards that as a huge crime.
There is also the matter of breach of due process in the Nigerian National Petroleum Corporation involving the sum of $25 billion in which the group Managing director Alhaji Maikanti Baru and the chief of staff to the President are mentioned.
Then enters the biggest embarrassing case of them all when the current administration reinstated a fugitive Alhaji Abdulrasheed Maina into the public service even when he was declared wanted by EFCC over alleged theft of N2 billion from public pension fund.
The embattled ex-chairman of the Presidential Task Force of Pension Reforms, Abdulrasheed Maina, who has been accused of complicity in a N2bn fraud, has gone into hiding the moment tge outcry became louder about the illegal way he was reinstated. President Muhammadu Buhari hurriedly ordered his dismissal even without deference to extant civil service rules which sjould have been that the federal civil service commission which played the disgraceful role in his recall ought to have been tasked to dismiss him and immediately hand him over to the EFCC.
The fugitive, who is still on the wanted list of the Economic and Financial Crimes Commission for the alleged offence, went into hiding soon after news that the anti-graft agency had launched a manhunt for him became public. His illegal reinstatement is blamed on the federal Attorney General and the Interior minister.
In this evolving case of Maina, the ministers of Justice Abubakar Malami, Minister of Interior Lt. Gen. Abdulrahman Danbazau (rtd) and the Head of service of the federation were fingered in this despicable show of shame.
Nigerians must wake up from slumber and demand transparent actions against all manifestations of corruption or else we will be swallowed by Bermuda Triangle of Nigeria which indisputably is corruption.
*Emmanuel Onwubiko is head of the Human Rights Writers Association of Nigeria (HURIWA) and [email protected] , [email protected] .
en
SOURCE :The Nigerian Voice (opinions)