COSON STORMS RIVERS STATE FOR SELECT STAKEHOLDERS FORUM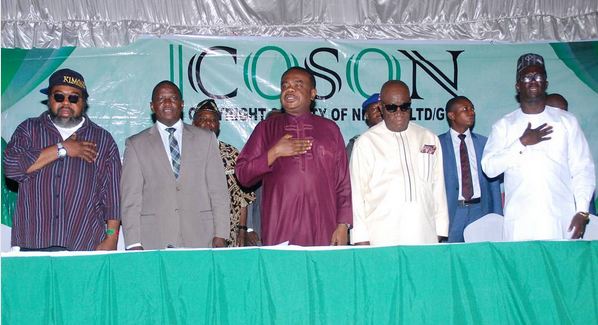 Source: Nathan Nathaniel Ekpo/Nollywoodgists.com
Copyright Society of Nigeria (COSON), the nation's wave making copyright collective management organization for musical works and sound recordings, which is revolutionizing royalty collection and distribution in Nigeria berths in the beautiful city of Port-Harcourt, the Rivers State capital on Tuesday, September 26, 2017 for a major Stakeholders' Forum for copyright owners and users in the South-Southern states of Nigeria.
The extraordinary forum which will hold at the main hall of Novotel Hotel in the heart of Port harcourt will be a historic gathering of top music artistes, songwriters, composers, music publishers, performers, record companies, broadcast stations, hotels, night clubs, restaurants, transport companies, advertising and activation companies, etc. from Delta, Rivers and Bayelsa states. The event will also be attended by top government officials including representatives of the Nigerian Copyright Commission, the Federal Government agency that regulates copyright in Nigeria. The Forum will be preceded by courtesy visits to key personalities and media organizations in Rivers State.
Speaking on the upcoming forum, COSON Chairman, Chief Tony Okoroji said, "We are ready for the big event in Port harcourt, Rivers state. It is an important opportunity for us to interact with and listen to the people on whose behalf we work. COSON continues to take giant strides across the nation and across the world. One of the key reasons for the rapid growth of COSON and the significant stability that this great organization enjoys is that COSON continues to be stakeholder driven. The COSON Stakeholders' Forum has been held several times in Lagos, Abuja, Onitsha, Owerri, Oyo, Akwa Ibom etc. Through a network of activists and consultants, COSON strives to make an impact across the country. We are going to Port harcourt to ensure that the COSON revolution continues to cut across all geopolitical terrains, inspire and energize the music industry to make great impact in the national economy, especially in the South Southern part of our nation, and at such a time when we believe music can be the unifying factor".
en