Court orders Enugu AG, prisons to produce 32 detained Biafra agitators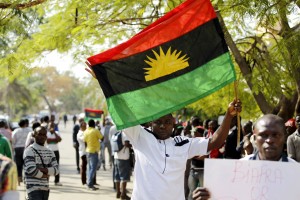 An Enugu North Magistrate Court, on Tuesday, ordered the Commissioner for Justice and Attorney General of Enugu State and the Nigeria Prisons Service to produce 32 detained pro-Biafra agitators.
The detained activists are members of the Ralph Uwazurike-led Biafra Independent Movement faction of the Movement for the Actualisation of the Sovereign State of Biafra.
They were arrested on May 22, while parading through Enugu metropolis to celebrate the 'Biafra Day.'
BIM, unlike MASSOB and the Indigenous People of Biafra, mark the Biafra Day on May 22, rather than May 30, which is the date the defunct Republic of Biafra declared independence from Nigeria in 1967.
Shortly after their arrest, the 32 agitators were charged with treason and arraigned before the magistrate court, where they pleaded not guilty.
They were subsequently remanded in Enugu Prisons.
But their trial had stalled since then, as the matter was adjourned on two occasions due to the inability of the police and officials of the Enugu Prisons to produce them in court.
When the matter came up again on Tuesday, the accused persons were again not in court.
Miffed at the development, the defence counsel, C. O. Obiekwe, accused the Federal Government of persecuting the agitators, who he said did not commit any offence.
He described the development as 'anti-democratic.'
Obiekwe added that the prisons authorities had no excuse for the failure to produce his clients in court.
"The prison authorities have no genuine reason, the other time they said they had no member of staff, this time no vehicle. By my checks, they brought 17 other accused persons to court today, so why did they not go back to bring the other 32 persons?"
An official of the Enugu Prisons, however, blamed the failure to produce the agitators on 'logistics challenges.'
"We have over 102 inmates going to court today, some went to Obollo-Afor, Amagunze, and several other places. So, there is a shortage of vehicles.
"We prefer Fridays because we have fewer cases. Other days we used to have 40 to 60, but today, we have the highest number and most of our vehicles are engaged," a Senior Prisons Assistant, Mr Ude Ambrose, told the court.
The presiding magistrate, His Worship Sam Okoro, ordered that the accused persons must be brought to court on the next adjourned date, July 26.
PUNCH
en
SOURCE :The Nigerian Voice (local news)