Dakuku offers N500,000 for arrest of escaped murder suspect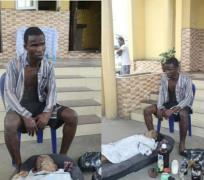 Director General of the Nigerian Maritime Administration and Safety Agency (NIMASA), Dakuku Peterside, has offered N500,000 for information that would lead to the arrest of Ifeanyi Dike, a murder suspect who escaped from police custody in Rivers State.
Dike, was arrested on Saturday by local vigilante with a bag containing the body of an eight-year-old girl, Chikamso Victory, which he was attempting to dispose off after he allegedly cut off the vagina, fingers, breasts, and tongue.
The suspect, who was also said to have raped the girl before killing her, was handed over to the police in the state.
But he later escaped that Saturday night from police custody in the State Criminal Investigation Department (SCID) under controversial circumstances.
Peterside, who is from Rivers State, announced the reward Thursday through a statement issued by his media department.
Peterside, the statement said, is saddened by the development.
He condemned the escape of the suspect from custody, adding that the suspect being on the loose was a threat to the Rivers people and other neighbouring states.
"We must all rise and condemn this heinous crime," he said.
"What could an eight-year-old girl have done to deserve this wicked act? What kind of future are we trying to give our children? Are we trying to say that our girls are no longer safe? Are we saying that our girls do not have a future?
"Without women, we have no future. The onslaught on girls and women is becoming increasingly disturbing. We must protect our young girls and women. This could have happened to any family. This is deeply saddening.
"Please, I do not want my action to be seen through a political prism. The dastardly act should be a concern for all of us as Rivers people.
Let us join hands with the police and ensure the re-arrest of Ifeanyi Dike," he said.
Peterside called on the commissioner of police in the state and other security agencies to arrest the suspect as quickly as possible.
He offered condolences to the family of late Ms. Chikamnso.
en
SOURCE :The Nigerian Voice (local news)