Dame Okowa To Flag-off Adolescent Nutrition, As UNICEF Picks Delta For Pilot Scheme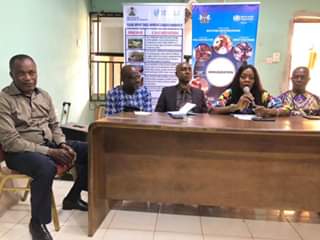 By Kenneth Orusi, The Nigerian Voice, Asaba
Wife of the Delta State governor, Dame Edith Okwa would on Thursday, 8 November 2018, launch the United Nations International Children's Emergency Fund (UNICEF), aimed at reducing incidences of malnutrition and stunted growth among adolescent girls which would further decrease maternal deaths in women.
Addressing journalists Friday at the Delta State Primary Healthcare Development Agency, Chairman of the agency, Dr. Isioma Okobah, said discovery has showed that a lot of teenage girls suffer malnutrition, "and this group of girls has actually been neglected, talking about malnutrition".
She said the period of the campaign, girls between the ages of 10 and 19 years old, would be the target audience, "it's been found that these age groups, a lot of times are actually menstruating and so, they are losing blood during menstruation and so if you are not replacing that with good nutrition that could lead to what we call iron deficiency anemia".
She also revealed that a lot of these age groups gets pregnant before the age of 19 years, "and so when they get pregnant and they are not well nourished, that could also lead to iron deficiency anemia and low birth weight for the babies that they have delivered and we also know that if we do not nourished them adequately, this will lead to maternal deaths and the low birth weight for the babies they have delivered will also lead to infant mortality".
According to her, UNICEF picked two states in the country, Kastina State which has launched theirs and Delta state, "what we are trying to do today, is to increase the awareness that a programme like this is coming in and we are going to pick three local government areas for the pilot which include Ika north east, Ethiope West and Isoko south and then they have Okpe local government for control", stressing that while UNICEF helps out with the campaign, after it has been implemented, it would cascaded to other local governments in the state.
Dr Okobah, the Executive Director of the Agency, Dr Winful Oneke Jude and the state Nutrition Officer, Mr. Benson Ethcie, while fielding questions from newsmen disclosed that the choice of the three local governments was due to the high prevalence of the incidences discovered in the areas from data collected, revealing that the programme has inter-ministerial synergy.
en
SOURCE :The Nigerian Voice (local news)