Dangote to list crude oil refinery on Nigerian Stock Exchange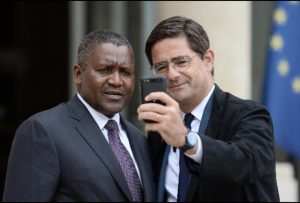 President of the Dangote Group,  Aliko Dangote, has said that its crude oil refinery which is expected to come on stream in 2019 will be listed on the Nigerian Stock Exchange.
Dangote spoke to journalists on Monday after beating the closing gong at the NSE in Lagos.
The billionaire businessman, who is Africa's richest man,  said that the refinery just like four of his companies already listed on the NSE.
He said,  "We will list every single company that we create between now and the end of my life. We pray that very soon, we will start having our AGMs in stadiums and not in hotels. And that means that we will create something like about two to three million shareholders and I am sure everybody will be happy."
His bell ringing was part of activities  in commemoration of his 60th birthday.
Dangote said that the refinery will improve local refining of the nation's crude oil, and save the country a lot of money currently being spent on the shipping crude oil and petroleum products abroad.
"Refining business is not a business that you make 50 per cent margin from; the margin is low but what you depend on is the volume of business that you have there, and that is the reason why we are building a 650,000-barrels-per-day refinery. It is a very large one," he said.
According to him, the refinery will create jobs while its products will be distributed to filling stations across the country.
"When you travel around, you see that, especially in the northern part, more than 50 per cent of the filling stations are not operational," he said. What we are building today is more than 100 times bigger than where we are. That is the trajectory that we are seeing in the next 10 years.
"We will take charge of diversifying the economy of Nigeria, most especially working with the government as partners to make sure that we diversify the economy and to spread prosperity to Nigerians. I think I have to continue now to dedicate the rest of my life to making sure that the prosperity is spread all over," he said.
SOURCE: The Nigerian Voice (business)