#dapchigirls: Ourmumudondo Movement Condemns Kidnap Of Female Students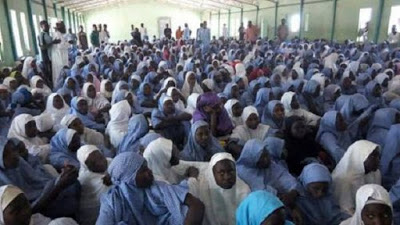 For almost a week, we have waited with uneasy patience to see how President Muhammadu Buhari's administration would provide leadership on the recent kidnapping of 105 schoolgirls in Dapchi, Yobe State. While there has been no concerted effort or any sense of urgency to rescue our daughters, we however hope that Mr. President who has said he is not in a hurry to act or respond to problems affecting Nigerians, has been able to study the historical perspective of the abduction, enough to rescue them. What a shame!
It is most unfortunate that once again, many parents in Northeast Nigeria have been plunged into unprecedented sorrow and grief. The gloom, pain, and downright dejection which the parents of these missing girls are feeling are beyond imagination and unfortunately, President Buhari may not appreciate it because he is not in a hurry to act. It is even more worrisome that both the government of Yobe state and the Federal government have painfully mismanaged this tragic incident, giving conflicting information. This is shameful and condemnable.
It will be recalled that this is not the first time such tragic incident would be happening in the NorthEast, and Yobe state in particular. In February 2014, 59 boys were gruesomely killed in a Federal Government college at Buni Yadi, Yobe state, by the Boko Haram sect. In April of the same year, 276 girls were kidnapped by the same terrorist group in Chibok, Borno State. Four years down the line, the same terrorist group has now visited the Government Girls Secondary School in Dapchi with its viciousness, kidnapping 105 girls in a swoop.
It is most regrettable that an administration that touted itself as the solution to Nigeria's security problems, has not only failed to proffer solutions but has also continually undermined the deadly impact of these terrorists, leaving Nigerians at their cruel mercy. What's more, this administration has repeatedly failed to show nary a value for the life of an average Nigerian.
Our nation is cowering to evil and injustice. From the Shi'ites members who were unjustly shot and killed while protesting peacefully, to the innocent Nigerians being killed by Herdsmen across the country, to those who are being killed gruesomely by ruthless policemen, and the scores of Nigerians being kidnapped in different parts of the country daily, the administration of president Buhari has consistently failed to show sympathy and genuine concern for these victims and also failed to show enthusiasm and willingness to put an end to these dreadful developments.
Consequently, we wish to demand that the government commit all military and intelligence resources to free our daughters who are grappling for liberation in the hands of these monstrous animals. We equally urge all Nigerians to provide whatever support that is needed to our security agencies to rescue them without further delay. In conclusion, we must not forget that there are several of our daughters from Chibok who are still in the hands of these vampires and who must be freed.
SIGNED:
Adebayo Raphael
FOR: OurMumuDonDo
Deji Adeyanju
FOR: Concerned Nigerians
Ariyo Dare Atoye
For: Coalition in Defence Of Nigerian Democracy
Bako Abdul Usman
For: Campaign For Democracy
Moses Paul
FOR: MAD Connect
en
SOURCE :The Nigerian Voice (local news)