Defeating El-Rufai wona��t be big task a�� Bello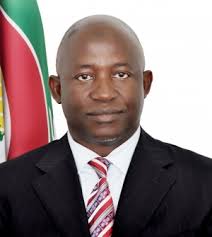 Dr. Mohammed Sani Bello, a former Kaduna State Commissioner for Science and Technology and one time ECOWAS Financial Controller is a leading gubernatorial aspirant under the platform of People's Democratic Party (PDP). In this interview with Abdulgafar Alabelewe, Bello who holds the traditional title of Mainan Zazzau said defeating incumbent Governor El-Rufai won't be a big task for him. Excerpts
WHAT inspired you to join the Kaduna gubernatorial race? Two things basically inspired me to join the race. Number one; before the 2015 general elections, I happened to be one of those who really had the vision for the coming of APC as a party. As I said, I was in the ANPP, after the 2011 general elections, I remained in the APC. By late 2011, I wrote a memo, which I entitled 'The imperative of merger of opposition parties in Nigeria'. My thinking then, was the need to have a strong opposition that will be working side by side with the PDP just as we have in the case of United States, where you have the Democrats and the Republicans. I submitted it to the Board of Trustees of the ANPP; I happened to be a member of the BOT representing Kaduna State.
They considered the memo and approved it. Subsequently, I made presentation of the same memo with little amendment to the President Muhammadu Buhari and he bought into it. That was how the issue of merger started. I was part of the resource persons during the entire merger process. I was the one who suggested the name APC, that we should name the new merger APC.
My vision was anchored on the popular pain reliever in the 80s; that people use to take for body ache. If you remember between 2011 and up till the time of 2015 general elections, there was outcry against impunity by the PDP; that the party was not doing well in terms of governance and so many things. So, I now said, let us name our party APC, like the body aching and you need pain killer to deal with it. So, during the merger process, the APC I suggested was All People's Congress, that is a party that will be people centered. But during the discussion, that name was changed to All Progressives Congress. So, by progressive, APC had started to become exclusive for some people, because it is not everyone in the society that goes with the tag 'progressive'.
Though, I don't have anything against people who call themselves progressives, but they are not the majority. Majority of people, you either call them conservatives if you must classify them or just leave them like that; they are human beings. They are citizens; they are politicians who want to contribute their quota to national development any necessarily going with that tag 'progressives'. By 'progressives', it means, it is not people oriented. And that went contrary to my own vision of All People's Congress. The acronym APC was retained, but the fact that, 'People' was substituted with 'Progressives' made the APC not to be a party of my dream. Because, the PDP as you can see, in spite of that people say about it, is people-focused; People's Democratic Party. My former party was All People's Party (APP). So, you can see, I have been consistent with belonging to a party that is people-focused. So, from the time the name All Progressives Congress came, I began to develop some resentment.
So, by 2014, I decided to register with the PDP without making any noise about it because as a public servant working with an international organisation, I didn't have the time and I didn't even have to be in active politics, but I was following events. So, because I had moved to the PDP, in 2015, I supported the PDP candidate in Kaduna State and my reason was not just because of the fact that I was a PDP member, but because I believe the PDP candidate then would do better than the APC candidate, because many people didn't understand the APC candidate, who eventually was elected governor. I was a PDP member and I have never been involved in anti-party in the history of my political career. So, I supported vigorously the PDP candidate.
One of the policies that the El-Rufai's government is criticised for is the sack of 21,780 primary school teachers. As a university teacher, how would you have handled a case of unqualified teachers?
Well, a case of unqualified teachers is relative. What made them to be unqualified in the first place? They were adjudged unqualified because a certain examination was administered on them and a certain cut-off mark was set for them, that anyone who does not make that cut-off mark is unqualified; that is against the norm. In the first place, these teachers were recruited a long time ago, over a period of time. So, if you want to correct any anomaly regarding teachers who have been recruited, there are two credible ways of doing it: number one, if the recruitment process was faulty, then, make sure that in the next four years, you only recruit those who are good to be teachers; that way, you can correct the process. It is within the competence of the government to do it and it can easily be done with every stakeholder carried on board.
Secondly, those who have already been recruited, there are policies and rules guiding their recruitment, train them, train them. Because if they have gone to school in the first place to earn a certain certificate, which was the basis for their recruitment, then it means you can train them. Of course, that does not mean that, there would not be those that are untrainable; there could be those who are untrainable, but you have to train them first, then as an aftermath of the training, you can conduct a certain test, and in doing so, you have to use qualified teachers to conduct such exercise. Then, you will do it simultaneously, and then you will now find those who are left behind. Some of those left behind may even be asked to go back to school. It has happened in other states, where they discovered unqualified teachers, they were sent back to school. That is how I would have handled that.
en
SOURCE :The Nigerian Voice (politics)