DELTA 2019: I Will Defeat Manager, Uduaghan, Diden Boosts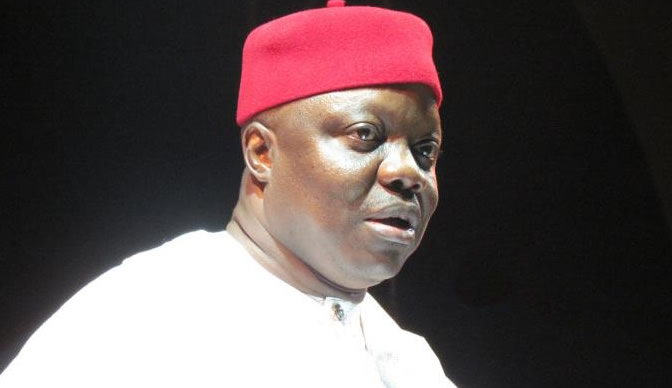 By Kenneth Orusi , The Nigerian Voice, Asaba
As the build up towards 2019 general elections gathers momentum, the member representing Warri North in the Delta State House of Assembly (DTHA), Mr Michael Diden, addressed as Edjele by his admirers, has hinted that he would floor his opponents to clinch the Peoples' Democratic Party (PDP) ticket at the primary.
He disclosed that he would defeat the current ranking senator representing Delta South Senatorial District at the National Assembly (NASS), Senator James Manager and the immediate past governor of the state, Dr Emmanuel Eweta Uduaghan, to a landslide victory with their wealth.
He stated this at the weekend while speaking with newsmen at his Koko residence.
He said when Israel needed a king, with the riches of King Saul and that of his kinsmen who have been in the military for years, David who was not reckon with was chosen as the King of Israel, "so, see me as the David. I will defeat them with their money", he sounded.
He revealed that his decision to join the race was to yield to the growing number of calls from his people to give them quality representation.
Hear him: "well, in apprenticeship, I believe that one day you will be free and when you are free and go and build your own workshop and you will equally become a master. I have served and I am also qualified especially in a situation where you are in the midst of people who believe in you and they ask you to come and run for an election.
"If in that kind of scenario you decided not to run for the election, first, the believe that the people have for you, you are bringing it down. It also shows that you are not qualified to represent them. I know I have the qualification, I know the people have believed in me and I know I believe in them. So, until the same people ask me not to run".
He stated that, "on a daily basis, the call to run for the senatorial district election keeps on increasing and I have promised them that I will not disappoint them. So, I am ready for the race", he declared.
When asked how he would be able to manage the situation, he said, "when you want to run an election in a democratic means, it is for you to talk to the people and the if the people agrees to give it to you through the ballot papers, then you win. So, whether you are a former governor, head of state, all those things does not count. It is what you have for the people that matters even if President Muhammadu Buhari comes to join the contest, if the people ask me to go ahead, I will still go ahead", he maintained.
Diden, who is the Chairman, House Committee on Peace and Security, said the state is winning the fight against criminal elements especially kidnapping, "because we have decided to go evangelical in our approach. We preach to them and they saw the need to embrace the gospel. So, you can see now that kidnapping has drastically reduced in the state".
The lawmaker who toed a different line on whether the All Progressives Congress (APC) was on ground in the state or not said, "you cannot say there is no presence of APC because the party is made up of people and especially in a situation where some PDP people feel aggrieved and base on that they went to join the APC. Those PDP people that felt aggrieved are strong members of PDP of old. So, we can't say there is no presence of APC but what I know is that a tree cannot make a forest".
He however dropped a bombshell that APC would not be able to win elective positions in the state as the party has been outweighed by the ruling party in the state, "The few persons that have left PDP to join APC cannot make APC to win in Delta State because politics is about number, the more, the merrier but the situation now is that APC is few and there is no way the few can dominant the mandate of the many, that is the situation in Delta State"
en
SOURCE :The Nigerian Voice (politics)