Delta Apc Delimma: Omo-agege, Ogboru-led Faction Occupies Secretariat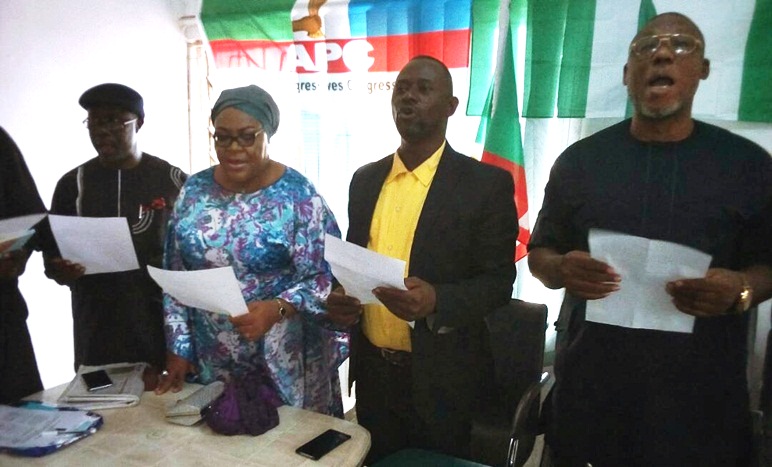 By Kenneth Orusi, The Ngerian Voice,i Asaba
Barely six days after The Nigerian Voice, authoritatively reported that the All Progressive Congress (APC) Secretariat was still deserted after two factional chairmen emerged from two different congresses, the faction led by the duo of Chief Great Ovedje Ogboru and Senator Ovie Omo-Agege on Tuesday took over the secretariat after it inaugurated its state executives led by the immediate past state party chairman, Prophet Jones Ode Erue.
The Erue led SWC which was elected at a parallel state congress despite the fact that the party leadership had earlier postponed the state congress was inaugurated at the state party secretariat.
Recall that the APC National Publicity Secretary, Malam Bolaji Abdullahi, stated that the party leadership would only recognize state congress conducted by party's approved convention committee, but in a move aimed at pre-emptying the decision of the party NWC, the Ogboru/Omo-Agege group rushed to Asaba to inaugurate its executive, while the party leadership was observing Democracy Day.
The Delta State APC Publicity Secretary-elect of the faction supported by the state party leader, Olorogun O'tega Emerhor, Mr. Moses Kamanya, while reacting to the development, described the purported inauguration as the height of impunity and desperation on the part of Ogboru and Omo-Agege camp to hold on shameful ly to a straw, while drowning.
According to him: "Senator Ovie Omo-Agege and Chief Great Ogboru in total disregard to the party's guidelines and regulations have moved again as usual to inaugurate their Kangaroo state Exco all in the bid of actualizing the objectives of their pay masters, knowing fully well that all approved state Excos nationwide are billed to be inaugurated by the NWC as soon as the outcomes of various congresses are validated by the NEC.
"This constant disrespect of party procedures and guidelines by persons who just joined the party continues to confirm their true intent to destroy APC in Delta state.
"How do we explain a situation where these set of individuals are moving to inaugurate a make believe state Exco when all progressive Deltans are lamenting at the decaying state of our infrastructure in the past 19 years of PDP misrule, and the party leaders are encouraging members to remain steadfast for effective takeover of the state by the APC come 2019. Another exercise in futility," he added.
en
SOURCE :The Nigerian Voice (politics)