DELTA FLOOD: Okowa's YAGEPrenuer Attempts Suicide, As Others Count Lost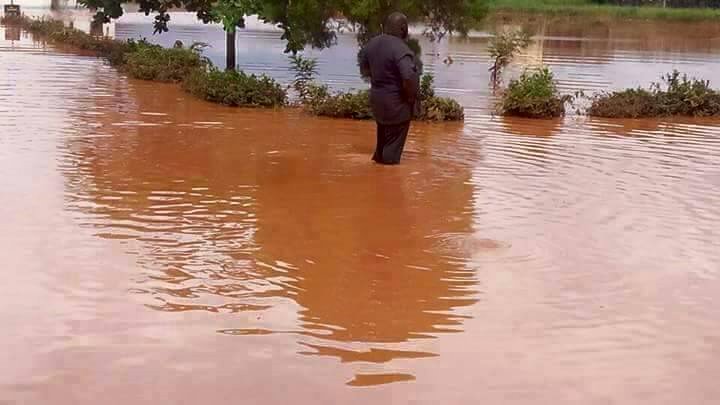 By Kenneth Orusi, The Nigerian Voice, Asaba
If not for the quick intervention of friends who proffered advice and encouraging words, one of the Youth Agricultural Entrepreneur Programme (YAGEP), (name withheld) would have allegedly committed suicide following the Saturday 22nd July 2017 flood which ravaged her fish farm.
The YAGEP programme of the Job Creation Office under the watch of Prof Eric Eboh, and directly under the office of the Delta State governor, Mr Ifeanyi Arthur Okowa, would have been halted.
Our source disclosed that her fish were already matured for harvest and were weighing above 1.8kg when the flood which swept through the Fish Farm Cluster washed away her 6, 000 fish into the Anwai River and the Canal.
According to our dependable source, "some persons accompanied her to her farm on Sunday. If not that they held her close, she almost jumped into the river", noting that but for the advice of friend she was calmed down.
Our impeccable source noted that she lamented profusely over the lost as she has borrowed millions of naira which she invested into the business.
"A fingerling is sold for N50.00, multiply that with 6, 000 fish, that alone is N300, 000. Then add the monies she would have spent on feeds as the fish eats rapidly as they grow but we told her that where there is life there is hope".
Our source whose marriage is barely two months plus and was affected said, "my 4, 000 fish are getting near maturity as I am bid to harvest first week of August but I lost everything to the flood".
"I was busy with others repairing our damaged road on Saturday and Sunday, I never knew that mine was also washed away", the source cried.
Investigation carried out revealed that the YAGEPrenuers whose fish farms were barely one month and directly behind Spinney 74, a new bar which was opened in Camp 74 were immensely affected as they lost all to the flood.
It was gathered that the Job Creation Officer, Prof Eboh, Commissioner for Agriculture, Mr Chikezie Austin and his counterpart in Environment, Mr John Nani have paid a visit to the farm cluster with the promise to relocate the new YAGEPrenuers to a new site.
Earlier in a media parley with the executives and members of Indigenous Newspaper and Magazine Chapel (INMC) of the Nigeria Union of Journalists (NUJ) Delta State Council, Nani had boasted that his ministry has done enormous work to prevent flood from sacking residents of the state and those engaged through the YAGEP programme of the state governor.
It would be recalled that The Nigerian Voice has exclusively reported that the remnants of Camp 74 Roads after it rained cat and dog Saturday, 22nd July 2017 was seen been mended by landlords and residents of Camp 74 Community which was shattered by heavy erosion occasioned by the over four hours downpour.
en
SOURCE :The Nigerian Voice (local news)