Delta Government Commends World Bank, European Union (EU) Over SEEFOR Giant Strides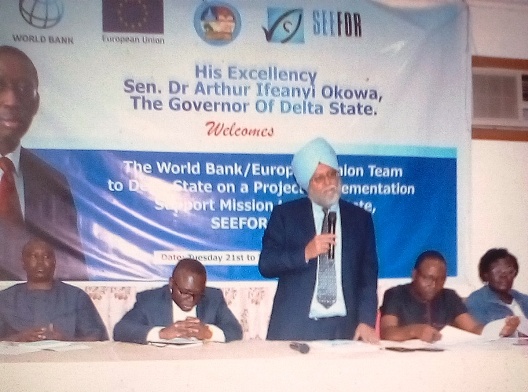 The Delta State government has commended World Bank and the European Union (EU), for their immense support in ensuring that the State Employment and Expenditure for Result (SEEFOR), achieves her core mandate.
The Commissioner for Economic Planning, Kingsley Emu, gave the commendation Wednesday while giving his remarks at the World Bank/European Union Team to Delta state on a project Implementation Support Mission to Delta State, SEEFOR Project, held at Hotel Benezia, Asaba.
Emu expressed happiness over the programme and assured the team of the state government's readiness to continue to partner the World Bank and EU in reducing unemployment in the state.
The representative of World Bank and Lead Financial Management Specialist Governance Global Practice, Mr. Parminda Brar, eulogized SEEFOR for scoring high in several areas of the programme in the state just as he said there was need to conquer more grounds.
In his words: "The SEEFOR project is very important for Delta State and just looking at the statistics, I think Delta State has done well. On areas like youth employment, you are close to 97%. On skills training for youths, I think I was really pleasantly surprised that you have done more than 600% of the target that have already been achieved on youth employment".
According to him, on most areas of component 'A', the state is close to 97 per cent, "I think you are close to 97% or you have exceeded the target. Congratulations for doing a good job on component 'A'", he praised EEFOR.
Brar charged them to double their efforts noting that, "There are some works that are still to be done on Community Driven Development (CDD), FADAMA, I think you are close to 87/88% for that part of component 'A', I have no doubt that you will be able to achieve the targets for component 'A'".
"Component 'B' is what we really will focus on in the next year, if you look at the various components on components 'B'. There is a lot of work to be done on the preparation of a new financial statement".
He said, "I think one of the biggest areas that we need to improve on, is the IGR, which is one indicator where the state is in about 12-13% of the target that is supposed to be achieved.
"On component 'B', we have made some progress but we still have significant way to go and the project is closing September 2019, we have a little more than one year to go and we are here as part of the implementation support mission", assuring that World Bank and EU are in the state to work with the state government to make sure that the designs are fully achieved.
"Then we can report back to the ministry of Economic Planning (budget and planning) and report back to World Bank management that this is a project that we should really work for the people of Delta State", he added.
Earlier in his welcome address, the state Project Coordinator for SEEFOR, Mr. Frank Apokwu, noted that "the task before us today is to see how far we have gone since the last mission and to see the issues or challenges that have cropped up, discuss them and see how far we can take the project".
He disclosed that the World Bank, EU, Federal and the state government are in collaboration, "the federal government is involved because multilateral organizations like the World Bank and EU do not deal directly with the states, they must come through the federal government which normally guarantees the states".
While making his presentation, Apokwu, said, "3, 143 youths have been trained in the period under review in entrepreneurship and money management skill programme. Those employed under SEEFOR project labour intensive public works scheme have constructed 10.2 km of roads ranging from interlocking, concrete pavement to asphalt".
According to Apokwu, "608 km of concrete drains have been constructed and maintained 315km of roads across the three Senatorial District of the state comprising of sweeping, and vegetation control among others".
He also disclosed that "over 70 percent of Private Sector Participants (PSPs) are engaged by the project to undertake waste collection across the six selected cities and are still continuing in business, trained 733 beneficiaries on short-term vocational enterprises under TVEAT Institutions funded by the project and acquired in collaboration with relevant government agencies five dumpsites measuring over one hectare of land in Asaba, Agbarho, Okpe and Ughelli".
en
SOURCE :The Nigerian Voice (local news)