Delta Governor Describes APC As "The Sinking Ship", Says Party Is Abandoned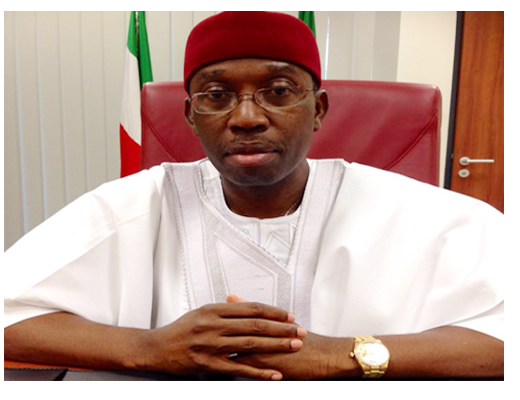 By Kenneth Orusi, The Nigerian Voice, Asaba
The President Buhari-led All Progressives Congress (APC) at the federal level has been described by the Delta State governor, Ifeanyi Okowa, as "the sinking ship", saying that the party has been abandoned.
This is coming on the heels of the exodus defection that rocked President Buhari's party by his Benue counterpart, Samuel Ortom and some senators and House of Representatives members from the party to the Peoples' Democratic Party (PDP) recently.
In a statement in Asaba , made available to The Nigerian Voice by the Chief Press Secretary (CPS), to the governor, Charles Aniagwu, said "The defections have clearly shown to the entire world that the APC lack the capacity to manage a political party, and indeed a government and this explains why the people now look up to the PDP to rescue the country and put it on the path of good governance for our people".
He described their leaving the APC as abandonment of the party, stressing that the defections signify a vote of no confidence in the APC-led government and that the 2019 election would be a referendum of how the APC shattered the expectations of Nigerians.
In his words: "The decision of a significant number of members of both the Senate and the House of Representatives to leave the APC and decamp into the PDP clearly indicates that there is hope that the country will be rescued from the misrule of the APC government".
Meanwhile, Okowa, has congratulated the National Chairman, Prince Uche Secondus and leadership of the PDP for the proactive steps taken so far in repositioning the party.
The Governor congratulated the PDP for positioning itself as a suitable alternative for the defectors. He emphasized that the choice of the PDP as a preferred destination for them is an affirmation of the kind of leadership the national chairman of the PDP has provided since assuming office.
He also commended the defectors for the courage they have exhibited in abandoning "the sinking ship.", saying that their action is an indication that the PDP is prepared to rescue Nigeria from the present state of affairs.
According to the Governor: "I congratulate members and leaders of the PDP on the defections and abandonment of the APC by the Governor of Benue State, Samuel Ortom and the members of the National Assembly".
Okowa further encouraged other Governors, lawmakers to consider joining the PDP as the party is set on a mission to rescue Nigeria.
en
SOURCE :The Nigerian Voice (local news)