Deontay Wilder vs. Tyson Fury fight results: Thrilling bout ends in split draw despite two knockdowns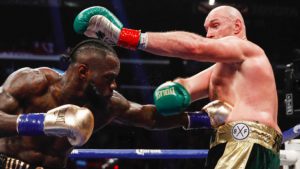 LOS ANGELES — A heavyweight title bout so good, the judges decided they should do it again.
In his first bout of significance since he shocked the world by upsetting his way to the heavyweight championship in 2015, Tyson Fury survived a pair of hellacious knockdowns — including one in Round 12 — and appeared to outclass WBC champion Deontay Wilder before settling for a split draw in front of 17,698 fans at the Staples Center in Los Angeles.
The first heavyweight title pay-per-view bout in America since 2002 saw both fighters combine for a modern classic that was overflowing with tension and drama. One judge had it considerably wide at 115-111 for Wilder while the second had it 114-112 for Fury. The final scorecard was 113-113. CBS Sports scored it 115-111 for Fury.
While the fight played out exactly in favor of each fighter's strengths as Fury controlled by boxing with constant feints and awkward angles while Wilder (40-0-1, 39 KOs) picked his spots to land heavy counter shots which threatened to end the fight. But the bigger story was the 30-year-old Fury's ability to come back from so much turmoil outside the ring and regain his prime form of three years ago despite a lengthy battle with mental illness, substance abuse and a period in which he ballooned to as high as 400 pounds in 2017.
"We're on away soil, I got knocked down twice, but I still believe I won that fight," Fury said. "I'm being a total professional here. I went to Germany to fight [Wladimir] Klitschko [in 2015] and I went to America to fight Deontay Wilder. God bless America. The 'Gypsy King' has returned.
"I'm what you call a pro athlete that loves to box. I don't know anyone on the planet that can move like that. That man is a fearsome puncher and I was able to avoid that. The world knows I won the fight."
Fury (27-0-1, 19 KOs) not only retained his speed and elusiveness, he was as daring as ever in the face of the sport's most dangerous puncher by slipping hard shots and countering clean as he taunted Wilder throughout the fight. With the American crowd surprisingly by his side, Fury also showed tremendous heart by overcoming fears he would gas out late and getting up from a two-punch knockdown in Round 12 that would've finished almost any other fighter.
Not only did Fury go on to outland Wilder, 84 to 71, according to CompuBox, he appeared to have the better stamina and landed the more telling punches outside of Wilder's two knockdowns. Yet Wilder's calling card of never being out of the fight proved true as he nearly won in dramatic fashion in the final round while seemingly down on the scorecards.
"I think with the two knockdowns I definitely won the fight," Wilder said. "We poured our hearts out tonight. We're both warriors, but with those two drops I think I won the fight. I came out slow. I rushed my punches. I didn't sit still. I was too hesitant. I started overthrowing the right hand and I just couldn't adjust."
Talk after the fight immediately turned to a rematch with Fury saying, "100 percent, we'll do it." Wilder held a contractual rematch clause if he lost although it remains uncertain whether a draw would allow him to activate it.
Either way, one thing to consider is that Fury is a broadcast free agent in the United States, which means it's possible he could eschew the rematch in favor of fighting British countryman and unified champion Anthony Joshua for more money. Joshua (22-0, 21 KOs) – holder of the IBF, WBA and WBO titles – has grown to become the biggest star in the sport globally and recently switched his U.S. television home from Showtime to upstart streaming service DAZN.
"I would love for it to be my next fight," Wilder said of the rematch. "Why not? Let's give the fans what they want to see. It was a a great fight and let's do it again. It doesn't matter to me where we do it.
"We're the two best in the world and we proved it tonight. When you get two warriors you get a great fight. That's what we proved tonight and I'm ready to do it again."
Wilder, 33, made the eighth defense of the WBC title he captured in 2015. Fury, meanwhile, defended the division's lineal championship he never lost which dates back to his 2015 win over Klitschko.
Fury largely outboxed Wilder for the first half of the bout until a short right hand caught him on the temple and dropped him early in Round 6. Fury got up quickly and rallied to nearly win back the round as Wilder appeared as if he might've punched himself out going for the finish.
"I was rushing my punches, that's something I usually don't do," Wilder said. "I couldn't' let it go tonight. I was forcing my punches too much instead of sitting back being patient and waiting it. I really wanted to get him out of there give the fans what they want to see.
"I didn't feel no pressure at all. When I rush my punches like that I'm never accurate. The rematch I guarantee I'm going to get him.
The second half saw more of the same as Fury successfully avoided Wilder's right hands and limited his output with constant movement. But the final round saw Wilder land a right cross and follow with a devastating left hook to the chin that knocked Fury down hard and appeared to leave him out cold.
In a scene that can only be compared with WWE superstar The Undertaker's trademark move, Fury dramatically rose up and rallied to have Wilder backpedaling at the end of the fight.
"I hope I did you all proud after nearly three years out of the ring," Fury said. "I was never going to be knocked down tonight. I showed good heart to get up. I came here tonight and I fought my heart out."
Wilder vs. Fury card, results
Deontay Wilder (c) vs. Tyson Fury for the heavyweight title ends in a split draw
Jarrett Hurd (c) def. Jason Wellborn via fourth-round TKO (ref stoppage)
Luis Ortiz def. Travis Kauffman via 10th-round TKO (ref stoppage)
Joe Joyce def. Joe Hanks via first-round TKO (ref stoppage)
Oleksandr Gvozdyk def Adonis Stevenson via 11th-round TKO (ref stoppage)
CBS Sports was with you for every punch from the bout in Los Angeles with our updating scorecard and live updates below. If you are having trouble viewing the results or want to refresh the scorecard, please click here . Wilder vs. Fury scorecard, live coverage
Wilder
9
10
9
9
9
9
9
9
10
9
9
10
111
Fury
10
9
10
10
10
10
10
10
8
10
10
8
115
en
SOURCE :The Nigerian Voice (sport)