Diego Costa, in true Diego Costa form, scores and gets sent off in La Liga return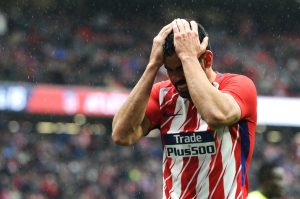 Diego Costa is back where he belongs. He's back with Atletico Madrid , the club with which he rose to stardom. And he clearly feels at home, because in his first two games since officially signing for his new – old – club, he's doing very Diego Costa-y things.
Like scoring as a substitute on his debut in the Copa Del Rey.
And like scoring on his full debut in La Liga.
And like getting sent off in one of the silliest ways possible.
It wasn't an overly aggressive or dirty tackle. It wasn't an outburst. Costa side-footed home Atletico Madrid's second goal of a 2-0 win against Getafe on Saturday. He then hopped over the advertising boards, walked up a few stairs and more or less went right into the stands to celebrate with fans.
Voilà l'action entière du but + du carton rouge donné par l'arbitre à Diego Costa… #AtletiGetafe pic.twitter.com/xBy31J7umx
— et merce (@TopLu28) January 6, 2018 </blockquote>
Perhaps he forgot he was already on a yellow card. Perhaps he was just overcome by the moment. But surely he knows by now, in his 16th year as a professional footballer, that going into the stands automatically calls for a yellow.
The referee produced the yellow, and Costa was sent off.
He was somewhat fortunate to even be on the field at that point, too. His first half was relatively uneventful, but after the halftime whistle, he had to be separated from a Getafe's Juan Cala. He was then yellow carded for an elbow to the face of a Getafe defender, and escaped punishment for another elbow minutes later.
But once he had his goal, he could complete his very own version of a double – and maybe even his very unique idea of a dream debut.
en
SOURCE :The Nigerian Voice (sport)