Dr. Jibril Attends 2017 UHC Financing Forum, GFF In America, Niger State To Get 1.5 Billion Naira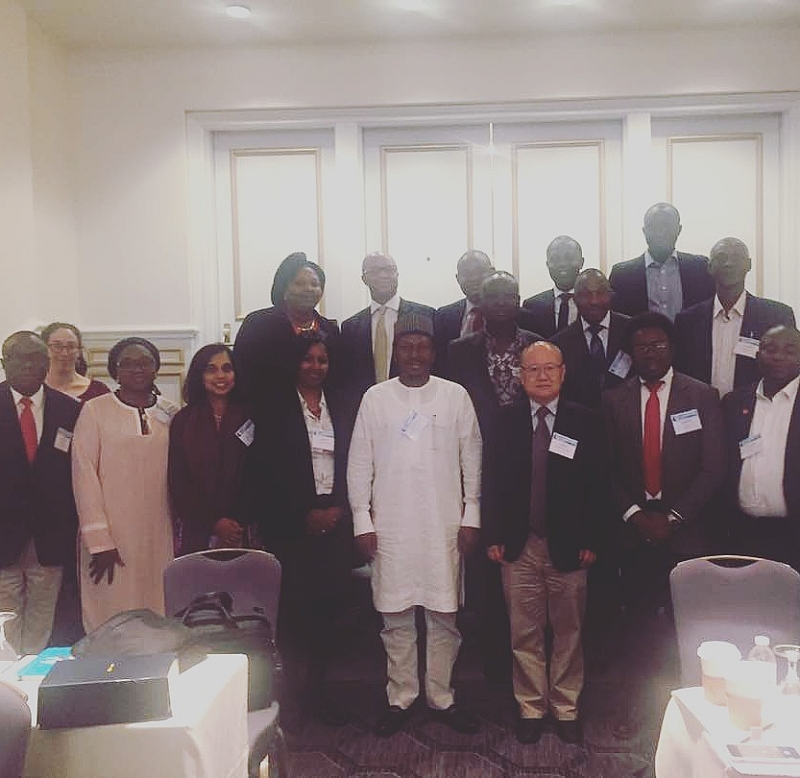 Niger State Commissioner for Health, Dr. Mustapha Jibril, out of all Health Commissioners in Nigeria was selected as part of the Minister of Health, Hon. Isaac Adewole's led delegation to Washington DC, United States of America, for the 2nd annual Universal Health Coverage (UHC) Financing Forum that was co-hosted by the World Bank and the United States Agency for International Development (USAID) to highlight strategic policies and practical interventions that can help governments utilize their health system resources and budgets more efficiently.
The vision of UHC is that, all people obtain the quality healthcare services they need while not pushed into poverty by paying out-of-pocket costs for healthcare. The 1st annual UHC in 2016 focused on mobilizing additional resources for Health as a first step in the UHC financing journey with an aim to explore how governments can achieve more with available resources. The UHC Financing Forum 2017 edition centred around efficiency, to help countries make better use of available resources to achieve faster and make more sustainable progress towards UHC for the benefit of humanity.
In the same vein, courtesy of Governor Sani Bello's competence and dedication, Dr. Jibril
also attended the Global Financing Facility (GFF) Meeting in DC. The GFF was launched at the 3rd International Conference on Financing for Development in July 2015, to accelerate global efforts to end preventable maternal and Child deaths and improve the Health and Quality of life of women, children and adolescents by 2030.
GFF is supported by the Every Woman, Every Child Global movement of the Sustainable Development Goals, initiated by the GFF investors group, heads of states and governments. Global leaders report on how the GFF is evolving as a catalytic and innovative pathfinder for financing reproductive, maternal, newborn, child and adolescent health.
It is important to note that, some factors aside Dr. Jibril's adherence to ethical conducts and ensuring Mr. Governor's health and health related directives are implemented when given in the interest of Nigerlites, other factors include but not limited to ;
Governor Sani Bello's political-will
Mrs. Governor, Dr. Amina Abubakar Bello's high-end passion for healthy Nigerlites, with special consideration for women and children
and Niger Government's prompt payment of Counterpart Funds as required by partners.
As at the time of this report, Mr. Governor has already paid Niger State's Counterpart Funds to accelerate the accessing of the 1.5 Billion Naira. Niger State Ministry of Health under the watch of Governor Sani Bello and his Health Commissioner have developed a policy document tagged NIGER HEALTH 1.0.
Quoting Gov. Sani Bello "upon identifying Health as one of the four priority areas that would receive greater attention, and then charged the responsible MDAs to quickly translate our vision into actionable roadmaps for repositioning this critical sector of our polity. The result of that identification is Niger Health 1.0, which is the first ever state-led health sector reform agenda and this is indeed an indication that this Ministry of Health and Health Services has positively internalized our clarion call to action".
Niger Health 1.0 is Governor Sani Bello's led administration's determined answer to decades of health sector underperformance and neglect in the state and the attendant huge cost in citizens' wellbeing and socio-economic progress. Above all, it is an encouraging signal that our determination to change the approach to governance is beginning to take firm roots.
Niger State Ministry of Health is among, if not the only State in Nigeria with a home grown Health Policy Document, a remarkable and outstanding development that did not only impress International Partners but also lauds Governor Abubakar Sani Bello's visionary, service inclined style of leadership and most importantly, the policy has began luring more International Partners for the benefit of Niger State and Nigerlites.
en
SOURCE :The Nigerian Voice (local news)