Ecowas: African Leaders Worship Dictators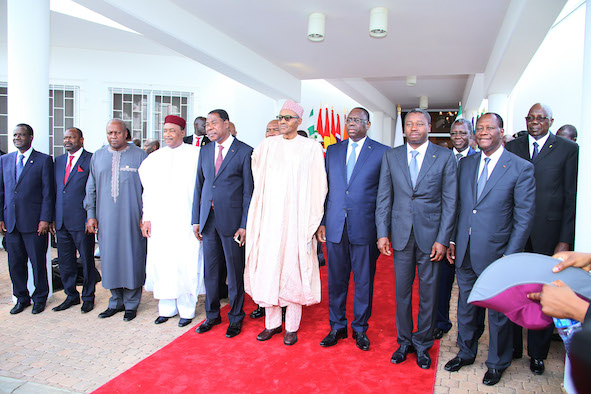 The West African leaders under the aegis of ECOWAS have chosen President Muhammad Buhari an ex-Military dictator and a strong supporter of the Fulani herdsmen a vicious killing gang, to be their leader. This is not the first time African leaders have chosen brutal dictator whose tenure is notorious for mass killing, corruption and all sort of human rights abuses to lead them. In 2009, African Union elected the stylish Libyan strongman Muman Gadafi to chair the group. In the same vein in 2011, the African Union elected the then President Teodoro Obiang of Equatorial Guinea who was also a notorious dictator of over 31 years to chair African Union.
Buhari takes over the Chairmanship role from Togolese President Faure Gnassingbe at the end of the 53rd Ordinary Summit of ECOWAS Heads of State which ended on Monday the 30th July 2018. Traditionally, the leadership of ECOWAS is on a rotational basis, however in 2005 the African Union made an exception to this similar leadership rotation, when it was the turn of Sudan dictator Omar al-Bashir who was in the center of killings in Darfur to be the chairman, but he was bypassed, and they kept the then Nigeria's President Olusegun Obasanjo the then incumbent chairman for the second year. However, ECOWAS threw decency to the wind by electing a failed leader like President Buhari,
Mr. Buhari had engaged in several coup plots in 1966, 1975, and in 1983 when he unseated the democratically elected President Shagari, and he ruled Nigeria with impunity until he was removed by another Military Dictator Ibrahim Babaginda via coup d'état in 1985. In 2015, Mr. Buhari again returned to power after so many failed attempts, this time through the ballot when he defeated the sitting President Goodluck Johnathan in a contentious election that Buhari was quoted to have threatened bloodbath if the election is 'rigged' in other words if he is defeated. To avert Nigeria's implosion and the widely violent and bloodshed Buhari threatened Mr. Goodluck Jonathan conceded defeat to Buhari, a move that people all over the world praised.
Instead of Buhari to be a reformist and a Democrat, he immediately swung into action and retired all the security Chiefs and appointed his Muslim kinsmen. Security of life has turned to a nightmare, police and Military officers have assumed full-fledged extra-judicial killings. Islamic Boko Haram that his regime lied to the world that has been 'technically defeated' keeps carrying their onslaughts on innocent Nigerians.
He brought Nigeria to its knee through many of his poor economic policies, Nigeria quickly fell into a prolonged recession. The life for the average citizen has become harsher. The population has no functional running water and electricity, and the majority of Nigerians live on less than a dollar a day. Whereas, Buhari diverts Nigeria's resources as his personal health care and aged care facility where he flies in and out to the United Kingdom for an undisclosed ailment. He made himself, his family and some cronies fabulously wealthy while most people in the oil-rich Nigeria struggle in deep poverty. Remember, Buhari, a former military leader, took office on a mantra of "change" in addition to the promise of tackling corruption and insecurity in the northeast region of the country, today the country called Nigeria is currently ranked 148th out of 180 countries in the 2017 Corruption Perception Index by Transparency International.
Although, the International media and other world power have shown less concern about Nigeria issues, compounded with President Trump 's 'American first policy', however Human rights groups like Amnesty International and other Human rights groups have accused President Buhari of violating the very rights that the ECOWAS is sworn to uphold.
Buhari has been a religious and ethnic conflict's poster child in Nigeria. His apparent silence and his erratic ostentatious statements in the planned religious killings in Kano where a 74-year-old Christian woman Bridget Abahime, an ethnic Igbo trader and wife of a pastor was beheaded for allegedly blaspheming Prophet Muhamad. Another Christian woman Eunice Olawale who was preaching was hatched down on the street of Abuja for preaching.
Buhari has also demonstrated his dislike for democratic ideals, especially his constant disobedience to legitimate Court orders when people that he sees as sworn enemies were granted bail. People like Sambo Dasuki, Nnamdi Kanu, Sheik Zakzaky and others. He clamped down on groups and people he hates. He killed several Shia members and tortured their leader Sheik Zakzaky who is still held in a prison. He brutally killed various members of the Indigenous people of Biafra (IPOB) whose crime was seeking for peaceful secession or rather self-determination from Nigeria through a referendum.
Buhari blacklisted IPOB as a terrorist group an action United State vehemently rejects. While Buhari is quick to blacklist IPOB, he is almost deafened to various agitations against the killings orchestrated by these dastardly killers the Fulani herdsmen. Remember, long before he took up leadership of the Nigerian state as an elected president, he is always being a self-identified Fulani herdsman and a strong backer of this terrorist group, to my mind this is a clear attestation that Fulani herdsmen are mercenaries that Buhari and his other Jihadist elites use to kill not only Christians farmers as the International Press parades, but also many Christians in the rural communities nationwide.
His election as the ECOWAS leader shows that some of us who believe in Africa are still daydreaming. This election indicates that Africa's democratic gains are being reversed, a trend that I don't know when it would end sadly.
Emeka Onwubiko is an IPOB member and writes from The University of Adelaide Law School
en
SOURCE :The Nigerian Voice (opinions)