Edo State Govt. Launches Agripreneurship Pilot Scheme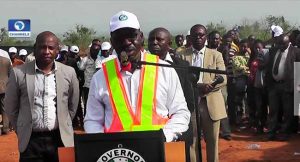 The Edo State Government has launched the pilot scheme of the Agripreneurship Programme in Sobe, Owan West Local Government area of Edo state as part of its efforts to create more than 200,000 jobs within the next four years.
"We are doing a thousand hectres here, we expect that we are going to have among those who would work here, the agripreneurs – We are also going to have growers who are going to do a lot of work here. We are using a pilot scheme for maize," a government official noted.
Also Speaking at the ceremony, Governor Godwin Obaseki said his administration has identified agriculture as a key component in the drive for economic development of the state.
"I know that we can do more than 200,000 jobs if we invest in agriculture and we want to show to Nigeria and Edo state that it is possible."
For the farm settlers however, the threat of invasion by herdsmen has remained a source of worry.
Allaying their fears, the governor stated that "there are almost 5,000 people here working, so you have varied interests. It's not like your isolated farm where you cultivate and go away and if there's an attack, you cannot find response.
"Here, there would be response, we are going to put a response averting mechanism so that the farmers can come together and protect each other," he added.
SOURCE: Channels Tv