Ekiti 2018: APC youths reject Fayemi, Adeyeye as candidates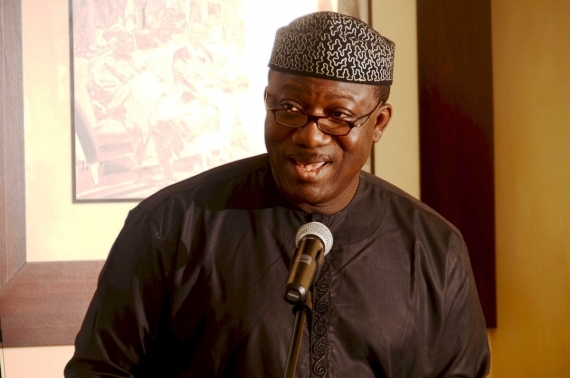 Youths in the All Progressives Congress (APC), in Ekiti State, under
the aegis of Ekiti APC Youths Congress (EAYC) have described reports
that Minister of Mines and Steel Development, Dr Kayode Fayemi has
tipped the National Publicity Secretary of the Peoples' Democratic
Party (PDP), Prince Dayo Adeyeye, as his running mate if he emerges as
the APC governorship candidate in the 2018 election as unacceptable to
the generality of youths in the party.
The EAYC said in a press statement issued after its monthly meeting in
Ado-Ekiti on Thursday that the governorship candidate of the APC must
come from the Southern senatorial district of the State, and not the
North where Fayemi hails from.
According to the statement jointly signed by Mr Tope Ogunkuade and
Comrade Tunji Adeleye, EAYC Convener and Secretary respectively, the
APC was in need of quality people in the Southern Senatorial district
to fly its flag in the 2018 election and if not that Adeyeye is
already above 60 years, the youths will rather have him as the APC
governorship candidate and not running mate to Fayemi.
They said Adeyeye was even playing the role of opposition in the media
to the Ayo Fayose-led PDP government better than those parading
themselves as governorship aspirants in the APC, and as such, if not
for his age, he is better qualified to be APC candidate.
The youths said they remained resolute in their opposition to the
governorship aspiration of Segun Oni, Dr Fayemi, Senator Babafemi
Ojudu and others from the North and Central senatorial districts,
maintaining that it was the turn of the South to produce the governor
of the State.
The EAYC said; "Fayemi has been governor before and his failure as a
governor led to our party's scandalous defeat in 2014 and 2015. The
fact that he was compensated with ministerial appointment as a reward
for the N1.5 billion he allegedly donated to President Buhari's
campaign cannot be a license for him (Fayemi) to see the governorship
ticket of the APC as his property.
"Also, Segun Oni has been governor before. He is now 63 year old; he
should go home and rest."
The APC youths noted that since the PDP has picked its candidate from
the South, APC must also pick its candidate from the same zone.
en
SOURCE :The Nigerian Voice (politics)