Ekiti Election: Fayemi Leads in 10 LGAs Results Released By INEC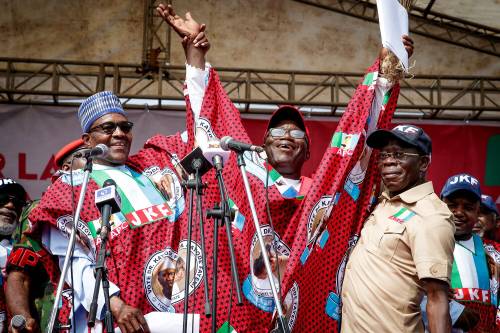 Kayode Fayemi, candidate of the All Progressives Congress (APC), was the surprise winner of the governorship election in Irepodun-Ifelodun Local Government Area of Ekiti State, the local government of outgoing Governor, Ayodele Fayose.
To beat Olusola Eleka, Fayose's anointed and candidate of the Peoples Democratic Party (PDP), Fayemi polled 13,869 while Eleka managed 11.456.
This statistic pretty much underscores the complexion of the overall election, as Fayemi is leading — even if only by a narrow margin — after the official announcement of results in 10 of the 16 local governments of the state.
EKITI WEST LGA
Registered Voters 53,712
Accredited Voters 24,478
Total Valid Votes 23,214
Rejected Votes 1,196
Total Votes Cast 24 410
IKERE LGA
Registered Voters 61,864
Accredited Voters 30,781
Total Valid Votes 29,419
Rejected Votes 1,132
Total Votes Cast 30,551
APC 11,515
PDP 17,183
EMURE LGA
Registered Voters 33,459
Accredited Voters 15,002
Total Valid Votes 14,393
Rejected Votes 556
Total Votes Cast 14,949
APC 7,048
PDP 7,121
GBONYIN LGA
Registered Voters 49,951
Accredited Voters 20,846
Total Valid Votes 19,850
Rejected Votes 882
Total Votes Cast, 20, 732
APC 11,498
PDP 8.027
IJERO LGA
Registered Voters 59,300
Accredited Voters 27,527
Total Valid Votes 27,445
Rejected Votes 1,528
Total Votes Cast 27,445
APC 14,192
PDP 11,077
MOBA LGA
Registered Voters 48,523
Accredited Voters 21,313
Total Valid Votes 20,581
Rejected Votes 660
Total Votes Cast – 21, 241
APC 11,837
PDP 8,520
EFON LGA
Registered Voters 26,838
Accredited Voters 10,950
Total Valid Votes 10,443
Rejected Votes 471
Total Votes Cast 10,914
APC 5,028
PDP 5,192
OYE LGA
Registered Voters 60,428
Accredited Votes 28,190
Total Valid Votes 26,759
Rejected Votes 1,363
Total Votes Cast 28,122
APC 14,995
PDP 11,271
IDO-OSI LGA
Registered Voters 5,3176
Accredited Voters 25,325
Total Valid Votes 23,952
Rejected Votes 1,258
Total Votes Cast 25,210
APC 12,342
PDP 11,145
IREPODUN/IFELODUN LGA
Registered Voters 6. 6162
Accredited Voters 27,306
Total Valid Votes 25, 849
Rejected Votes 1,362
Total Votes Cast 27,211
APC 13,869
PDP 11, 456
en
SOURCE :The Nigerian Voice (politics)