Eliminating hunger: Nigeria's Readiness for theZero Hunger Challenge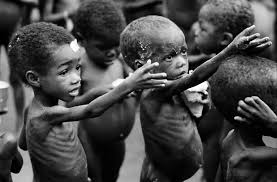 The Zero Hunger challenge which is the major target of the Food and Agriculture Organization was launched by the united nations Secretary-General Ban Ki-moon in 2012 to galvanize the interest, commitment and concerted efforts of all stakeholders including the Government, Non-Governmental Organizations (NGOs), corporate organizations and businesses (especially agribusinesses) towards ending hunger, eliminating all forms of malnutrition and building inclusive and sustainable food systems.
Zero hunger attainment is notably an important item of the Sustainable Development Goals (SDGs) where it occupies the number 2 position and is achievable by efficiently maximizing nature's agro resources to ensure that hunger is totally chased out of our planet.Also, itfurther implies that nations do not only produce food sustainably but are equally self sufficient in food production so as to ensure that her citizens have access to decent and affordable meals. This means that the result of the zero-hunger goal attainment will be excellent access to decent meals at affordable cost to everyone in the world even the impecunious ones and this is to be achieved through sustainable means.
Furthermore, the Zero Hunger challengereflects some elements from within the SDGs which if addressed together will enthrone zero hunger in our world. These include; ending hunger and delivering on the 2030 Agenda, an end to rural poverty through doubling small-scale producer incomes, adapting all food systems to eliminate loss or waste of food, access adequate food and healthy diets, for all people, all year round, ending malnutrition in all its forms ensuring all food systems are sustainable from production to consumption.
Ensuring zero hunger globally is therefore the collective responsibilities of all global citizens especially the government, farmers and agro processors,agro-product merchants and agricultural research institutes, who are the major stakeholders in food production. These parties must join forces to ensure that extreme hunger is precipitously reduced if not eliminated.
Imperatives of the zero hunger challenge for Nigeria
Nigeria is undoubtedly a developing nation. Evidences and reports from research and studies have indicated that the nations worst hit by the scourge of hunger globally are the developing nations. For instance, recent reports by the united nations indicate that;
One in nine people in the world today (about 815million) are undernourished
The majority of the world's hungry people live in developing countries (of which Nigeria is among) where 12.9% are undernourished.
According to projections over 23% of people in sub-Saharan African countries are undernourished
Poor nutrition causes nearly half (45%) of death in children under five, that is, over 3.1 million children every year
One in three children suffer stunted growth in developing countries
Over 66 million primary school-age children attend classes hungryacross the developing world with 23 million in Africa alone.
With such records therefore, it becomes imperative for developing nations like Nigeria to set relevant machineries in motion to ensure that the level of hunger is tremendously reduced not only as a way of showing commitment towards the global zero hunger challenge, but as a means of reversing the ugly trend of hunger and malnutrition and its concomitant effects on the populace. In this this regard therefore, the question now arises, "How is Nigeria prepared to reverse this trend and effectively engage in the global zero hunger challenge". In response to this, one can say that it is breadth-taking to note that according to reports, Nigeria has so far remained a major producer of a good number of crops such as cocoa, palm produce, groundnut, cashew, yam, cassava, sesame seeds, pineapple, banana/plantain, pulses, ginger, shea butter, hides and skins, potato, fruits and vegetables etc. of which she is a global leader in the production of cassava, cowpea and yam to mention but a few.
These reports would drive one's mind to conclude that Nigeria is ready for the Zero Hunger challenge.Nevertheless, the relative high prices of these products even in the local market which makes it unaffordable to the very low-income earners raises lots of concern and sometimes tempt people to question the authenticity of these claims and conclude that total elimination of hunger in the country is a near impossibility. And that Nigeria is not properly positioned to meet the Zero Hunger target.
This is more so because food security can never be achieved if the vast majority if not all the citizens lack access to affordable food.Despite this, with the extensive arable land areas in Nigeria spanning up to 82 million hectares, Nigeria as a nation have the capacity of feeding her populace consisting of over 170 million people and exporting surplus at very competitive prices as a means of contributing to global Zero Hunger goal. With our very fertile soils, ambient climatic conditions for various crop types across the different vegetational belts in the country, large population which supplies cheaper labour and the near absence of natural disaster, Nigeria basically require commitment from stake holders such as the Government, NGOs, farmers, agro processing companies and agro-products merchants to make her fully prepared for and capable of effectively engaging in the Zero Hunger challenge.
To get Nigeria well prepared for the challenge therefore, government will need to create the enabling environment through agro-friendly policy implementation and infrastructure provision such as roads especially those which connects the hinterlands and rural areas (where most of the farming is done) to the urban areas where they can be either processed, consumed or exported. Besides, improving the rural society will encourage more youths to remain there and engage in farming thus resulting in higher production. Reliable power supply will enable processing companies to cheaply process and package foods for consumption during off-season periods making them cheaply available at such periods.
Farmers equally need to engage in farming not only with the mindset and aim of farming to feed their families and make some money from the sales of surplus but with the aim of contributing to the global effort towards achieving Zero Hunger globally. With this in mind, they will explore best options for cheap and sustainable means of food production so that the final consumers can have sustainable and cheap access to these foods.
Processing companies can equally contribute to Nigeria's preparedness by adopting best practices in food processing to ensure maximum shelf-life and health-friendliness of their products which will be acceptable both in Nigeria and abroad. On their part also, agro-product merchants must make efforts to ensure that farm produces or processed foods gets to the final consumers at affordable prices. Non-governmental Organizations and donor agencies can contribute their quota by funding farmers groups and conducting grassroot campaigns for increased involvement of youths in agriculture. Educational institutions are not left out as they are required to conduct and release research results on better farming systems, crop and animal improvement, and sustainable pest and disease combating strategies. With the aforesaid put in place, Nigeria would have been well placed and ready to effectively engage in the Zero Hunger challenge.
Nsikakabasi Ekanem lives in Uyo. He contributes this article for The Nigerian Voice [email protected]
en
SOURCE :The Nigerian Voice (local news)