EU Urges Trump To Stick With Paris Climate Deal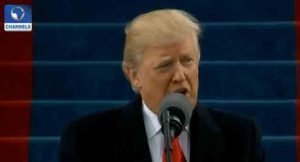 Officials of the European Union are struggling to persuade President Donald Trump not to pull the United States out of the Paris climate deal.
A source to close to EU said European ministers have been lobbying senior White House staff, after hearing President Trump was leaning heavily towards exiting the global pact.
"If the biggest economy in the world dumps the whole thing … we all have to worry.
"We are reaching out at all possible levels … to try to explain why they do not need to leave the Paris agreement," the source told Reuters on Wednesday.
President Trump is expected to announce a decision as early as next week along with other energy policy changes, including ordering opening up LNG exports and Arctic drilling.
Source: Channels Tv