Ezekwesili kicks off campaign, says she 'll deliver Nigeria from economic doldrums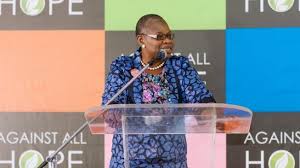 Oby Ezekwesili, presidential candidate of the Allied Congress Party of Nigeria (ACPN), kicked off her campaign on Sunday, saying she is the "best man for the job".
She released official photographs for the campaign and challenged her rivals to "bring up their doable programmes to better the lots of citizens".
Ezekwesili insisted that none of those aspiring to the highest office in the land is better than her.
Aisha Yesufu, director of special projects for the campaign organisation, said Ezekwesili would deliver Nigerians from economic strangulation and fight for the masses.
"The Obiageli 'Oby' Ezekwesili For President organisation – Hope 2019 – has issued official campaign photos as it kicked off the INEC-approved campaign season," she said in a statement.
"Hope 2019 campaign kicked-off officially on Sunday with a thanksgiving service in Abuja, after which the candidate will go to her home state, Anambra, to officially get blessings from the royal father and other elders of her community.
"We are excited and we can't wait. The best MAN for the job in 2019 is definitely a woMAN and this woman we know by her track record, will #Fight4Naija."
en
SOURCE :The Nigerian Voice (politics)