Fake bank alerts spread fear among business owners
Unrelenting in their ploy to defraud unsuspecting members of the public, scammers, through fake bank credit alerts, have brought sorrow to many business owners, casting a big shadow over the cashless policy drive of the government.
At only 23, Azeez Bakare, a serving corps member in Lagos, has perhaps experienced the sort of pain and agony even people twice his age would not pray to witness. A graduate of Babcock University, Ilisan, Ogun State, the last few weeks have been some of the toughest and in fact, longest for him.
Since August 2, 2018, when he ran into the hands of a fraudster in the course of carrying out his mobile phones sales business, life has not remained the same for him. Mentally and financially, the Osun State indigene has become a shadow of himself.
To support himself during his ongoing one-year National Youth Service Corps in Lagos, Nigeria's commercial hub, Bakare, a tech freak, figured that marketing in-demand mobile gadgets and devices would be the best way to raise extra income during this period.
After winning the trust and confidence of some wholesalers in Computer Village, which is arguably the largest market for Information Communications Technology accessories in the country, the young man kicked off his marketing career early this year. For him, it was the beginning of an interesting journey. But on August 2, after his experience in the hands of a young scammer named Idowu believed to be an undergraduate of the University of Lagos, his life as a budding businessman has perhaps ceased to be interesting.
"Right now, I don't know if I want to continue this business or not," Bakare told our correspondent earlier in the week during an encounter. "The experience really left me traumatised and afraid of people. I find it hard now to trust people when I'm transacting a business because I fear that they could do worse things than Idowu did to me."
Tunde Olaogun was arrested for defrauding traders to the tune of N4.5m
On the evening of that fateful day, Idowu, according to Bakare, had ordered for four sophisticated iPhones after seeing his advertisement on Instagram, a popular social media platform. The latter rushed excitedly to deliver the items at Abule Oja, a small community in Akoka, Lagos, at about 6pm – less than an hour after receiving the order. It was not the first time he was responding to such calls, so he had no reason to worry. But about 30 minutes after arriving at the place and the business deal supposedly sealed, Bakare, realised he had been lured into a trap – one that has not only affected his relationship with suppliers but also others as well.
"Ordinarily, I don't go to deliver orders myself or attend to such at that time of the day but because of the way the guy spoke to me, I had to take the pains to go from Ikeja to Akoka despite the heavy traffic on that axis.
"I went because I thought he was a genuine customer; I never knew that it was someone that had plotted evil for me.
"The guy bought three iPhone 8 Plus and one iPhone X. Each of the used iPhone 8 Plus cost N235, 000 while the brand new iPhone X was sold at N325, 000.
"When I met him, he took me to the front of an apartment he claimed was his, but I didn't know that he gave me a fake name and home address as well. After delivering the phones to him and he inspected them, he requested for my bank account details so that he could transfer, the money into it. Right in front of me, he paid the money into my account and the app even showed my name and bank details as if it was real. He even received a debit alert on his phone.
"Meanwhile, a day before that, I had problems with my SMS notification. Someone transferred money to me in the afternoon but I got the alert at night. So, I thought it was the same situation after waiting for like 20 minutes and not receiving it on my phone.
Jessy and Jennifer arrested in Kano for defrauding business owners
"Later, one of his friends came and began shouting at him to go and put on the generator. He pleaded with me to wait for him to quickly do that but unknown to me; the two of them had escaped through the back of the building. After waiting for more than 30 minutes, I called his number and found out what had just happened. As soon as he heard my voice, he ended the call. When I used another person's phone to call him, he answered but ended the call when he realised that I was the one. Soon, he switched off his phone," he said.
The incident marked the beginning of a tortuous journey for Bakare. Apart from living with the nightmare of losing such an amount to a stranger, the person he had collected items from on credit, with a promise to remit the cost after removing his profit, was breathing down his neck terribly. He was confused.
"The next day, I went to my bank to confirm if the money had entered my account but I was told that there was no such transaction on my account," he explained. "I felt like disappearing when they told me that.
"I went back to that same house in Akoka to see if I could find the guy but I didn't. However, one guy was picked up by the police at the place after I reported the matter at the Sabo Police Station. With that and the help of Truecaller app that revealed the culprit's real name and photograph, the police were able to trace his parents' house to Ifo in Ogun State.
"Idowu's father was arrested and asked to produce him. He was later granted bail and showed up with his son and a lawyer at the station few days later. After negotiations went back and forth, the money was eventually paid to me in full on Monday, September 3," he revealed.
Though he has managed to retrieve the total sum for the items, Bakare has yet to fully recover from the shock and trauma the incident left him. Apart from raising his awareness level by several steps, the corps member told Saturday PUNCH that he had stopped accepting mobile bank transfers as mode of payment while doing business since the incident happened. He fears he may never be able to trust people again or stay in business for much longer so as not to fall victim to such and other types of scams again.
"I have since stopped trusting people with mobile bank transfers," he said. "As a matter of fact, even those close to me, I demand cash from them now when they patronise me.
"Before now, there were even customers that would plead with me that they had reached their daily transfer limit and would pay the next day, I usually agreed. But since this bitter experience, I've stopped accepting such arrangements regardless of who is involved. I have learnt a lot from that experience.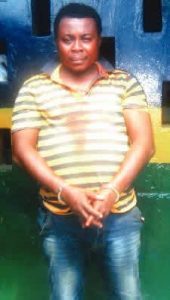 Asomba bought items worth N13m using fake bank alert
"A lot of people have advised me to stop this business because of the nasty experience I had.
"This has been the biggest challenge of my life. I was really depressed. I had pressures from every quarter. It has been a very tough period for me," he added.
But while Bakare can at least take solace in the fact that his money was recovered after one month of heartbreak and rigorous pursuit, Barry, 30, a young man based in the Ketu area of Lagos, is still living with the pain of losing about N1,530,000 to a fraudster. Deploying an even advanced trick to the first culprit, the suspect is said to be in his mid-60s and have remained at large since August 14, 2018 when the crime was committed. He fled with a 2003 edition of Toyota Matrix, which had been put up for sale but put in care of Barry.
Narrating to our correspondent recently how the dubious transaction took place, Barry revealed that it was the first time he witnessed such since his foray into business several years ago.
According to him, the elderly man acted like a genuine customer after seeing that the vehicle was up for sale. He said that after inspecting the car on the first day and expressing satisfaction by agreeing to a price, the man called him to meet him at a bank along CMD Road, a major route in the area leading to Magodo Estate, Lagos, for him to pay for the purchase. Even though the teller stamped the slip the buyer was holding and the seller received a credit alert of the agreed amount, by the evening of that day – hours after the unknown client had taken away the car – the picture became clearer. Barry and his team had been scammed.
"Being an elderly man who looked neat and spoke good English, I had no reason to suspect that he was a fraudster when he came to show interest in buying the car," the distraught young man told our correspondent on Tuesday.
"The next day he called me to meet him at a bank on CMD Road so that he could make payment. He said he wanted me to be there with him when he was making the payment.
"I went into the bank with him and watched him as he gave a slip to the teller who soon stamped and gave him a copy. I saw the bank's stamp on it with the agreed amount as well. Immediately, I called the owner of the current account where the money was paid into and he confirmed that he had received credit alert.
"However, by that evening, after releasing the vehicle to the man, the owner of the account, who happens to be my brother, called me to say that he couldn't access the cash after visiting the ATM to make withdrawals on the request of the car owner. That night, he got a message from his bank stating that the transaction was suspicious.
"The next day, we visited the bank to ascertain what was happening and it was there we were told the buyer used a fake bank draft to pay for the car and that they were investigating it. They said that I was a suspect.
"We lodged a formal complaint at the Ketu Police Station and State Police Command in Ikeja. We equally asked the bank to review the CCTV footage of that day of the incident, but they refused to do so. We asked them how such fraud could take place if indeed they verified that the originating account had enough funds to cover for what was on the draft. They declined all our requests for explanations and said that I was going to be arrested if I visited again.
"The matter is still with the police who have said that until we pay a mobilisation fee of N50, 000, they won't do anything about it. We also visited the Magodo residential address the buyer also provided twice but didn't see anybody.
"I am really heartbroken. I used to hear about this fake alert scam but I never knew it was real until it happened to me. I don't think I can ever accept online payment for any business dealing after this terrible experience. I don't know if I'll ever overcome the pain the incident has caused me," Barry added painfully.
Like Barry, Idiat Mogaji, a textile wholesaler in the Oshodi area of Lagos, is still licking her wounds one month after two young men, who claimed to be based in Benin, Edo State, defrauded her of the sum of N2m, using a fake bank credit alert.
Arriving at her shop at about 11:30am on August 3, the mother of five soon went from being happy to extreme excitment after realising that her new customers were not just there to cut a small deal – they had come for a mega business.
Being a Friday, there was no better wish than to make a good sale to cap the week and usher in a fulfilling weekend. From lace materials to Ankara fabrics of different grades and sizes, the young men made orders that left Mogaji's competitors green with envy. But less than 40 minutes after leaving with her goods, the woman realised she was in big trouble. Her years of hard labour were at the verge of total collapse.
Williams and the Porsche he bought using fake alert
"To erase any kind of doubt, the guys paid around N150, 000 in cash from what they purchased while transferring N2m from their various bank accounts. I received all the credit alerts on my phones and had no reason to worry since it was not the first time that a customer was paying through that mode and I would get the money.
"But shortly after they left my shop with all the purchased items, I sent my daughter to go and withdraw some cash as I needed to pay somebody I owed money. She returned to tell me that she couldn't withdraw the amount because the money in the account was not up to that. I didn't believe her at first until I had to go to the nearest branch of my bank to confirm. I almost collapsed when I was told that no transaction had occurred on my account that day.
"I waited there in the bank for almost 30 minutes, hoping that they would tell me that the money was finally in and that the mix-up was caused by network issues. But that did not happen. It was there that I was told that I had been scammed with the fake alert stuff.
"Till this moment, I still don't know what to say. Though the matter has been reported to the police, I have not heard anything positive from them. It is a big loss; I may never be able to recover from it because I know how long it took me to get to this level in business. To lose N2m in one day is a lot.
"Two weeks after the incident, I couldn't go to the market. I was at home, confused and crying over my loss because it was a big one. I only started coming out recently after people encouraged me.
"The truth is that since this incident happened to me, I have stopped accepting bank transfers as mode of payment from customers I don't know. Even though I need to make sales, I tell such clients about my ordeal and why I can only accept cash from them. If not for God and my children, I would have done something crazy because I was really hurt.
"Those who did this to me should know that they have not done well. God is watching them and would reward them accordingly," she said while fighting back tears.
Two of her daughters watched on pathetically as she recalled the sad incident. It would take a long time for the family to get over the heartbreak.
Fake bank credit alerts, one of the growing number of ways fraudsters are deploying to rip off unsuspecting members of the society in recent times, have become a real menace in many parts of Nigeria today. For established and budding entreprenuers, the phenomenon is proving to be a threat that not only poses grave danger to their investments but also survival as individuals and family men with loads of responsibilities.
In the past few months, reports of such cases have been a constant feature in many news publications including on the Internet.
For example, in May this year, a 28-year-old medical doctor, Michael Williams, was arrested by the police in Lagos for buying a Porsche car worth N28m using fake bank credit alert. He is said to be a member of a syndicate specialised in defrauding exotic car sellers in Lagos and other cities in the country.
In May 2017, a 33-year-old man named Babatunde Olaogun, was also arrested by the police for allegedly using fake bank credit alert to purchase laptop computers worth N4.5m from a shop in Lagos.
"When I bought the laptops, I resold them to someone else but the person did not pay me on time," the suspect had said. "When I could not pay on time, I pleaded with the person who supplied me the goods to give me more time but the pressure became unbearable. So, I decided to send the fake bank alert to him so as to have peace."
There have been a series of similar cases in different parts of the country in recent months, raising fears among business owners and even individuals, who rely on the online system of payment during transactions.
To stem the tide of fraud in this category, the Deposit Money Banks in February this year expressed concerns over the issue and intensified efforts to deal with it.
According to a top official of a bank, who asked not to be named, one of the steps being considered is for banks to change the format of SMS notifications in a way that would accommodate some security features and make it difficult for fraudsters to manipulate.
"It is very easy these days for anyone who wants to send a fake bank alert to do this by closely studying the format in which the target's bank sends its alerts.
"When the fraudster masters the format, he can, just by using Google search, send a fake alert to the target's phone.
"Any person receiving a credit alert should contact their account officers or someone in the bank to confirm the transaction. People can also look at their bank statement to make sure that the money was in fact deposited," the official said.
In June 2018, the Nigeria Inter-Bank Settlement System said the industry lost N12.30bn to various frauds between 2014 and 2017, many of them perpetrated through mobile and Internet banking.
The Managing Director of the organisation, Mr. Adebisi Shonubi, revealed that the figure was lost in 41,461 cases of fraud between 2014 and 2017.
Calling on financial institutions to improve their securities, Mr. Michael Odusami, Chief Executive Officer and President of MAXUT Consulting, a technology company, providing solutions to banks, described it as one of the ways to stop fraudsters from perpetrating their evil.
"Our solution as a technology company is about fraud prevention. Most transactions are not physical, they are done through electronic channels; so serious measures have to be put in place in terms of security.
"As a monitoring system, we have helped a lot of banks and financial institutions to guard against fraud. More still needs to be done to arrest this situation," he said.
To make business transactions easier and more seamless, the Central Bank of Nigeria in 2012 introduced a cashless policy to minimise transactions done with cash. The aim was to encourage business dealings through the use of other channels aside physical cash. The scheme worked well in Lagos, forcing the government to extend it to other states of the federation. However, in April 2017, the CBN announced the immediate suspension of the implementation in 30 states of the federation, raising concerns among stakeholders.
But despite the development, a growing number of Nigerians prefer to still do a lot of transactions relying on platforms that work without physical cash. However, with the unending cases of fake bank credit alert frauds, experts fear that trust levels may be affected, thus hampering cashless business dealings among citizens. – Punch.
en
SOURCE :The Nigerian Voice (local news)