Fall Out Of Imo Ward congress: Gov Okorocha orders arrest of committee for missing materials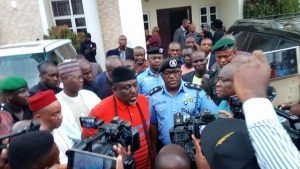 Imo State Governor Rochas Okorocha has directed the State Commissioner of Police, Chris Ezike, to arrest and prosecute all members of the All Progressive Congress (APC) Committee that conducted the Saturday ward congress in the state for their alleged role in the stealing of materials intended for the election.
The Governor also charged the Commissioner to set every machinery in motion for the arrest and prosecution of one Mr Ini Okori, alleged to be at the centre of the missing materials.
Okori, according to the Governor, escaped with the materials at the residence of the National Organizing Secretary of APC, Chief Osita Izunaso, before the commencement of the election.
Governor Okorocha said he equally regretted what he described as the dishonourable role of Senator Izunaso in the matter.
According to him, "Izunaso was not able to divorce his local and personal political interests or pursuits from his official responsibilities as the National Organizing Secretary of a National Party like APC."
The Governor ,who stated this in a press statement he made available through his Chief Press Secretary, Sam Onwuemeodo, noted that, were it not for the role he serves as governor and as a father in managing the situation, "the unfortunate role of these people would have thrown the State into a very big crisis which nobody would have been in a position to imagine its outcome."
He observed that, for the Organizing Secretary of the Party, Izunaso to be arguing with Okorie, originally sent for the conduct of the congresses, over who among them was in custody of the sensitive materials in question was despicable, adding that it showed they never wanted the congress to be successful from the start.
According to Okorocha, "It is also important to point out here that those who never believed that APC had prospect at the initial stage and who called Governor Rochas Okorocha all sorts of names, including Alhaji in Government House, and Okoro-Hausa, must not be allowed to disturb the peace of APC in the State."(SUN)
en
SOURCE :The Nigerian Voice (politics)