Fans React as Actress, Fathia Balogun as She Turns Bread Seller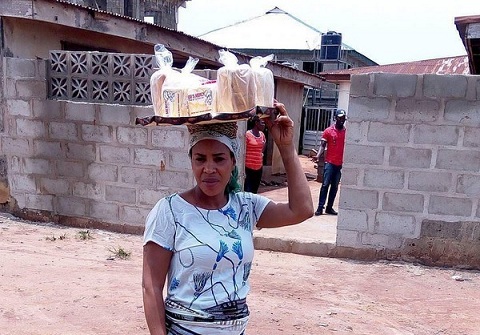 Source: Nathan Nathaniel Ekpo/Nollywoodgists.com
Just like the story of the famous bread seller, Olajumoke who was discovered by TY Bello, when she photo bombed their shoot, Nollywood actress, Fathia Balogun, has also joined the bread selling gang.
Trust Nollywood, they never carry last as they will sure capitalize on any situation of things in the country to create their own storyline and so, there is another Jumoke in the making.
Fans, who are familiar with the bread selling story are not surprised as many say they have been expecting it and now a movie is being produced towards that direction.
Here are some comments here; "Why can't they use the jumoke jeje, fathia is top old for this part, and they are even getting it wrong already, can't they borrow a bread tray full of bread from one bread seller, instead of putting few six days old looking bread on her head. A Doris Simon would have been better for this role."
"So they cannot find an age appropriate actress to act it? I hope the movie director really knows why Olajumoke became a star."
"Hmmm naija I hail thee! I knew something like this was gonna happen waiting for THE MISSING CHIBOK GIRLS."
en