Fashola: Between lying against President Jonathan and providing power for Nigerians – Reno Omokri Reounts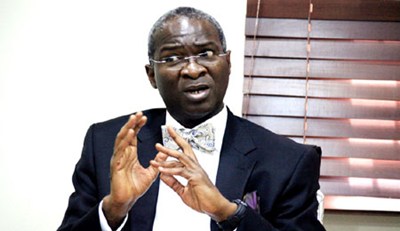 My attention has been drawn to comments by the minister of power, Mr Babatunde Raji Fashola, wherein he said former President Goodluck Jonathan did not challenge the result of the 2015 elections because he had wrecked the economy and mismanaged the nation and was glad to go.
Mr Fashola's exact words were as follows:
"Many didn't know what happened in detail. One of the reasons, it seems, that they did not contest the outcome of the election was perhaps because the economy was already paused. It does not matter whichever government that took over, they knew everything was down. The foreign earning from crude oil at the international market was falling at an alarming rate. So, when the cash was no longer coming in, they felt like, 'let them come and take it over."
These remarks are false and only show the extent to which Mr Fashola has fallen.
For the avoidance of doubt, let me factually state that Nigeria was performing better in every sphere of government on May 29, 2015, than it is doing now.
For example, on that date, Nigeria was the number one destination for foreign direct investment in Africa as rated by the Geneva-based United Nations Conference on Trade and Development (UNCTAD). Today, we have deteriorated to being ranked as the 19th most attractive investment destination in Africa. Do not take my word for it. Please do Google it.
Going further, Nigeria was acclaimed by the world's preeminent anti-corruption monitor, Transparency International, for her successes, under President Jonathan, of using technology to fight corruption, such that Nigeria made her best improvements on TI's Corruption Perception Index moving 8 steps forward from 144 to 136.
Whereas today, under Mr Fashola's so-called anti-corruption government, Nigeria has made her worst ever deterioration in Transparency International's Corruption Perception Index, moving backwards by 12 points from 136 to 148.
Former President Jonathan probed the NNPC when allegations of corruption were levelled against that organisation. Today we read from a supervising minister that $25 billion worth of contracts were awarded without due process, and nothing is done. Dr. Jonathan fired his ministers who were accused of corruption, but today, you can allegedly forge a certificate and still sit in governance over Nigerians or award a fraudulent grass cutter contract and still boast on TV of having connections at the highest levels.
But most telling of the failure of the administration Mr Fashola serves in is the fact that whereas the Nigerian Bureau of Statistics reported a job growth of over 3 million during the Jonathan administration, due to innovative policies of that regime including the Youth With Innovation in Nigeria initiative, the Nigerian Oil and Gas Industry Content (NOGIC) Act of April 2010 (Local Content Law) and the Graduate Internship Scheme, the same organisation, in December of 2017, reported that 7.9 million Nigerians had lost their jobs in just 21 months of the Buhari government.
Moreover, whereas the International Food Policy Research Institute in their annual Global Hunger Index of 2013, praised the Jonathan administration for significantly reducing hunger in Nigeria, today, the World Economic Forum and the World Poverty Clock have both declared that Nigeria under Buhari has become the world headquarters for extreme poverty having overtaken India, a nation eight times our size.
It is therefore bewildering that in the midst of these notorious facts, which are easily verifiable on Google and in reality, Mr Fashola continues in this fallacious propaganda that he and his government have become deservedly known for.
I would urge the integrity challenged Mr. Fashola, who spent ₦78 million of Lagos State funds (the worth $550,000) on his personal website (tundefashola dot com, which contained apps and a countdown clock amongst other things), to take time away from inflating contracts and note that former President Jonathan conceded to then-candidate Muhammadu Buhari on March 31, 2015, long before the total votes were tallied and announced by the Independent National Electoral Commission.
Fashola, a man who has been rightly nicknamed minister for darkness, should put his time to better use by providing power to Nigerians. We have not forgotten that in 2014 Mr Fashola said that a serious government will fix the power situation in just 6 months. He has been a minister now for three years and the situation is worse. By his own words, Fashola has proven to Nigerians that his government is not a "serious" one.
Reno Omokri is a best-selling author of Facts Versus Fiction: The True Story of the Jonathan Years and Leah Sharibu: The Girl That Boko Haram Left Behind.
en
SOURCE :The Nigerian Voice (opinions)