Feelings of Borno Residents on Release of Unimaid Lecturers and Police women kidnapped by Boko Haram Last Year in Gubio and Maiduguri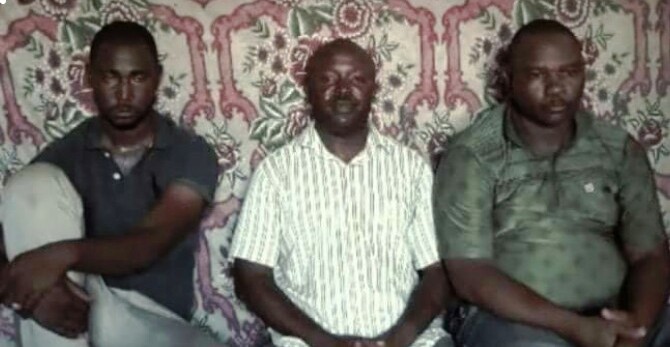 Lots of reactions, comments and accusations trailed the abrupt and final release of the three reaming lecturers of university of Maiduguri that were abducted in an ambush attack near Gubio town in Gubio LGA of Borno state while on their return back to Maiduguri from a scheduled NNPC oil exploration assignment at the Lake Chad Basin.
A situation the that left some of the soldiers, Civilian JTF and university of Maiduguri staff dead including a driver who is a relation of the University of Maiduguri's Vice Chancellor, Professor Ibrahim Abubakar Njodi.
Similarly, the boko Haram insurgents also ambushed a police convoy conveying a corpse of a late female police officer who died in active service just at the outskirts, few kilometers away from Maiduguri metropolis and shot many, Injured some and killed a few as they sporadically opened fire on the convoy around Dalwa village as well, kidnapped about 10 police women and other females escorting the corpse to Askira Uba LGA of Borno state who were declared missing.
The Nigerian Voice Maiduguri Correspondent, Ahmed Abu packages an analysis of people's feelings, opinions and reactions on their release and reports.
But fortunately, on Saturday, 10th February 2018, the Directorate State Security (DSS) presented and handed over to President Muhammadu Buhari, 3 of the remaining missing university lecturers and 10 other police women and relations abducted by the boko Haram insurgents after prolonged negotiations with the government and other relevant authorities.
It is gladdening to note that in Borno state, their release attracted a lot of reactions, comments and accusations as one Ahmed Hausari, a civil servant said, ," their release is a welcome development in the first place as life is involved but there is politics in the matter which we civil servants are not involved in their politicking".
"They know everything about the matter and communicate with the boko Haram insurgents. We don't want to be involved in their politics. For how many months or year that these abductees are with the boko Haram and now released without any injury and looking healthy", Ahmed added.
A lecturer with Department of Mass Communication, University of Maiduguri, Malam Abdulmuttallab Abubakar said, " This is one of the response to ICRC intervention on the issue"
"This is very interesting and pleasing. It also shows that this BH crisis is something different from the narrative we are meant to believe. It is neither religious nor anti-western ideology toa larger degree.
"After reading the story, one can see that ICRC acted as neutral intermediary based on the request of the BH and FG, which led to the release but ICRC didn't involve in the negotiation. This statement is value-loaded. It needs analysis and it raises additional questions to the entire BH line of actions of Albayan group", Abdulmuttallab said.
Working journalists in Borno also added their weight on the feelings and reactions of Borno people where, Malam Abubakar Tijani said.
"Actually the news came unexpected. Everyone thought the lecturers are forsaken by the government. And the recent video released by Shekau dampens every hope about them, although it is well known that the lecturers are under the custody of the Mamman Nur faction,
" Shekau's bold question that "If Sambisa was really destroyed, why aren't the police women not rescued? " makes the possibility of the release unrealistic. I'll still say kudos to PMB.", Tijani said.
Malam BaDala Aji, media consultant said,: "It's been a commendable effort by the present administration and the ICRC, they have been a pillar of support in the release of the chibok girls and now, the unimaid lectures and the policewoman. It is better that they intensify efforts and release the remaining chibok girls in captivity".
One Malam Liman Ahnad , a trader "This is a very welcome development and a high credit to this great administration and entire northern region is behind this administration for the tireless efforts. We wish them safe return to unite with their various families,"
While Ibrahim Ali a federal civil servant said " I feel great and elated when I heard the news of the released of the abductees especially, the university lecturers,"
A university of Maiduguri lecturer, Abubakar Yahaya said, " I am happy that they have been finally released. I always thought of what their families were going through and even as colleagues it was not easy for us.
" It is quite a devastating situation to have your beloved one in the hands of Boko Haram and not sure whether he will come back alive or not. But we thank God that they were finally rescued and will join their families.
"I sincerely commend the effort of the government and all those involved in making sure that these people were released by Boko Haram.
"But I urge the Federal Government to use the same method they negotiate with these people to get them agree to stop the violence. It's a good development that this people could be engaged in negotiation and even get people released from them. I believe government can make further effort to engage them to negotiate and bring all this violence to an end," Yahaya said.
Mrs. Helen Moses, a worker with NGO based in Maiduguri said, " in fact we are happy and indeed grateful to God that they are back to their families alive and not killed by the boko Haram insurgents.
"Because nobody believe that they will be back alive. We thought that all what they call negotiations were mere government politics. We give credit to President Buhari, He should keep it up and ensure that the remaining abducted girls and people are release by the boko Haram", Helen added.
Mrs. Tina Daniel of IPCR CPVs: said, " I feel happy and proud that the FG was able to rescue them. This act will not only make their families happy but it will also heal their psychological traumatized injuries or wound in their hearts, especially, the spouses of the abducted lectures and police people.
"GOD bless those who participated in their release and GOD bless the federal republic of Nigeria. May GOD continued to help our able President,' Mrs. Daniel added.
A senior Lecturer with the Department of Estate Management, Ramat Polytechnic, Maiduguri, Malam Abdulhamid Jauro Chul said," actually it is a welcome development and the whole idea is that they should be back healthy and to look sound to their families.
"We pray that this conflict should come to an end and peace should return to the state and even north east at large permanently for us to enjoy our lives and live a better life like in those days when Borno was actually home of peace for everybody irrespective where you come from or who you are," Chul said
"It is quite interesting to see my colleagues back on feet to teach once again but government should be responsible again for their medical treatments to ascertain their Health having been in the hands of those insurgents.
"We really thank God that they are back and on their feet. Kudos to our President for fulfilling his pledges. He should also endeavour to rescue the others remaking with the insurgents in the sambisa forest*" Chul added.
en
SOURCE :The Nigerian Voice (local news)