Fg Develops A Road Map Against Gender-based Violence In Lake Chad Region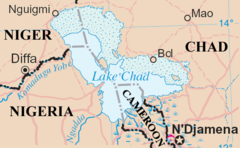 By Ahmed Abu, The Nigerian Voice, Maiduguri
Nigeria says it has developed and instituted a Road Map aimed at curbing Gender-Based Violence in the North East and Lake Chad region.
The Minister of State Foreign Affairs Hon Khadija Bukar Abba Ibrahim made this known at a briefing on the Joint UNDP-OCHAI mission to Chad and Nigeria during the ongoing committee meetings of the United Nations General Assembly in New York recently.
Hon Khadija said that the road map also known as "Buhari Plan" would provide a comprehensive rehabilitation plan of action for North East and Lake Chad.
She explained that the "Buhari Plan" represents the single humanitarian and development programme initiated by a government in Lake Chad region.
The Minister said the Federal Government understood that no humanitarian work can succeed of developmental and security issues are not addressed. She therefore stressed the need for local authorities to take the lead in tackling the challenges in the region.
en
SOURCE :The Nigerian Voice (local news)