Fidelity Bank earnings grow by 3.5 per cent to N152bn in 2016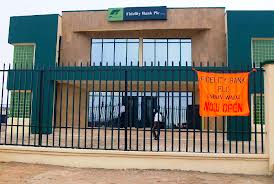 Fidelity Bank Plc gross earnings grew by 3.5 per cent to  N152.0bn in  the financial year ended December 31, 2016, despite the hard-heating recession in the country.
The full year audited results for the top Nigerian lender was  released at the Nigerian Stock Exchange on Friday.
It grossed N146 billion  in the corresponding period in 2015.
Based on it result, the bank is  is proposing to pay a dividend of 14 kobo per share to shareholders.
In other performance indices, net interest income grew by 1.7% from N60.9bn to N61.9bn, whilst total deposits, a measure of customer confidence, grew by 3%, rising from N769.6 billion in 2015 FY 2015 to N793.0 billion. Similarly total assets increased by 5.4% to N1,298.1bn from N1,231.7bn in the corresponding year. Profits however were moderated in the period under review by the one-off staff cost incurred during the year. Consequently PBT stood at N11.1bn down from N14.bn in FY2015.
"Our financial performance in FY2016 reflects the sound fundamentals of our evolving business model as we continued with the disciplined execution of our medium-term strategy which positions the business for improved and sustainable profitability," said the Fidelity Bank CEO, Mr. Nnamdi Okonkwo.
He explained that profits dipped due to the cost of N4.8bn cost incurred as Fidelity Bank discontinued its legacy gratuity and retirement scheme. "Excluding this one-off charge, PBT for the year would have been at N15.8bn," he stated.
Meanwhile Fidelity Bank's retail and electronic banking strategy has continued to deliver impressive results with savings deposits growing by 30.1% to N155.0bn while customer enrollments on its  flagship Instant Banking (*770#) and Online Banking products grew by over 200% leading to a 44.6% growth in net e-banking revenues to N7.5bn. This performance he said was "driven by the upgrade of our core banking system which provides a superior architecture that enhanced our operational efficiency and deepened our electronic banking capabilities."
SOURCE: The Nigerian Voice (business)