Former Sec. Gen of Ohanaeze Ndigbo, Nduka Eya, rescued from kidnappers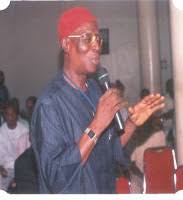 …recounts how his driver sold him out
A former Secretary General of Ohanaeze Ndigbo, Chief Nduka Eya, has alleged that  his driver is the brain behind his abduction.
Incidentally, the driver whose name was not given was abducted along with him in an apparent decoy to cover his culpability.
A report in Vanguard indicates that Eya, who was commissioner several times in Old anambra State and a certain time a Resident Electoral Commissioner of Indepndent National Electoral Commission,  was rescued in a forest in Emene, near Enugu by a team of policemen who stormed the den of the kidnappers at about 10 a.m. yesterday.
According to him,  he was kidnapped around 9.30pm on Thursday when he was about to take his coffee before going to bed. He alleged that the kidnappers, apparently working with his driver, came into the compound through the main gate, which the security guard had earlier wanted to bolt, but the driver told him not to, as some visitors were being expected.
Eya who told his ordeal in his Enugu residence said, "I was rescued by the police. My driver was part of it; they said he brought the business. I can tell you, the police, when they want to work, they work. After all the rigmarole, I was tortured, I was beaten but I just said 'why do you strike me'? The driver was there, they beat him too but I don't know if it is the same type of beating they gave me,"he said. "But one funny thing is that for three days I was blindfolded, but they didn't blindfold the driver. He was the driver who took us out to the bush, he was driving. And this is a young man, he had no job, I just employed him."
The former Ohaneze ndigbo Sec. Gen. said that three of the kidnappers walked into his main building through the kitchen door with the driver who they were beating to give the impression that he was not part of the plot.
"When they came in, they pointed a gun at him and he followed them to his own car and the driver (who usually keeps the car key) was commandeered to drive us up to Emene, before one of the kidnappers took over from him and meandered into the forest,"he added. "On arrival at the forest, I discovered over time that the number of the kidnappers increased to between 14 and 20 and they moved me from one location to another. "They demanded N25 million before it went down to N2 million, even "as I kept reminding them that I am a poor retiree and had no such money."
Meanwhile, Enugu State Police Public Relations Officer, PPRO, Ebere Amaraizu, yesterday, narrated how Eya was rescued. "He was rescued unhurt by the operatives following an operation carried out in a forest along Enugu/Abakiliki Expressway in which one suspect identified as one Chibundu Amadi was arrested,"he said in a statement. Amaraizu further said that the said Amadi was "armed with a locally made gun and he is helping the operatives in investigations, while the rescued victim has re- united with his family."
en
SOURCE :The Nigerian Voice (local news)