Former SGF Babachir advises Nyako, others to remain with Buhari in APC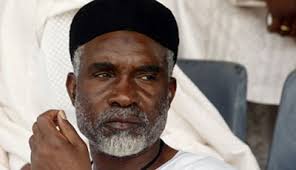 A former Secretary to the Government of the Federation, Babachir David Lawan, has called on former Adamawa State governor Murtala Nyako and his supporters to remain with President Muhammadu Buhari in the APC.
Babachir, who spoke at a meeting with aggrieved members of the APC mainly from the camp of Nyako and those of former chairman of the Economic and Financial Crimes Commission (EFCC), Nuhu Ribadu, advised them to stay away from the factional rAPC.
Babachir dismissed the rAPC as a group of disgruntled politicians who could not achieve anything beyond media attacks on President Buhari and his party, saying the party would wax stronger under Comrade Adams Oshiomhole to defeat its detractors.
He described the leader of the rAPC, Buba Galadima, as a light weight politician who lacked the substance to pose any serious challenge to the ruling party at any time.
"Galadima can talk most especially with zero substances, leading to the loss of elections in the past. He and his co-travelers in the party became disgruntled after they resisted the merger to form the APC.
"President Buhari sidelined them having realized that the type of leadership they offered could not have chances of winning the elections. New people took over the leadership of the party and we successfully won the elections," he said.
The former SGF therefore urged the NWC of the APC to hasten the inauguration of the committee for reconciliation to resolve internal crisis faced in some states.
Earlier in his address, a factional chairman of the party in the state, Ezra Dimas, said the party had submitted a formal complaint to the national secretariat over the conduct of congresses in the state, saying the aggrieved members were open to genuine reconciliation.
Usman Ibrahim who led members of the Nyako camp at the meeting, assured Nigerians that Nyako and his supporters would remain in the APC but would not accept automatic ticket for Governor Muhammadu Jibrilla as being planned, saying a court case had been filed against the recent congresses which he alleged were manipulated by the governor to install his stooges.
en
SOURCE :The Nigerian Voice (politics)